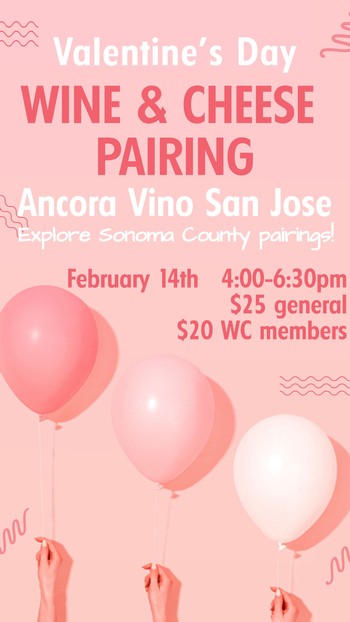 Valentine's Day Wine & Cheese Pairing
Tuesday, 2/14- 4:00pm-6:30pm
Ah, Valentine's Day aka the "Day of Love." The officially-recognized day to acknowledge your love and appreciation for your significant other. Now, some folks like to celebrate in style – get all dressed up, go out for Champagne, splurge on a nice dinner. The whole Shebang. Some folks like to keep it simple and do something easy and low-key.
Being the "amici d'amore" that we are, we've come up with a way to help Lovers of all kinds do something special on the special day…Gonna go big?? You can pre-game with us and start the night off right – without breaking the bank OR you can keep it easy and low-key and still do something fun and special. This event will fill the bill perfectly – no matter your preference!
"EXPLORE SONOMA" WINE & CHEESE PAIRING
$25.00 General / $20.00 for Wine Club Members
Tuesday, February 14th from 4pm – 6:30pm
320 W. St. James Street, San Jose
2021 La Crema Sauvignon Blanc (Sonoma County)
Paired with Laura Chenel Chevre with Yuzu Gele
2020 Hartford Court "Four Hearts" Chardonnay (Russian River Valley)
Paired with Bohemian Creamery "Boho Belle" with Lemon Pine Nut Shortbread
2020 Siduri Pinot Noir (Russian River Valley)
Paired with Valley Ford Creamery "Hwy 1" with Bacon Almonds
Stonestreet Estate Cabernet Sauvignon (Alexander Valley)
Paired with Matos "St Jorge" with Walnut Plum Conserva
We're also pouring our most popular sparkling rosé, the 2021 Monteci "BelleBolle" by the glass for only $10 a glass – or $15 a bottle (to go only)!
Please Note:
This will be a self-paced, no host format – Wine notes will be provided. Seating is informal and on a first come, first served basis.
FEATURED WINES WILL BE SALE-PRICED for all guests!