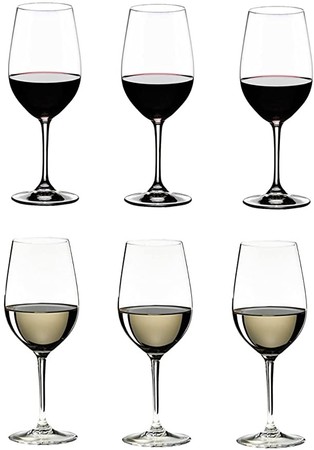 Riedel Vinum Riesling/Zinfandel Glasses (Set of 6)
I know they say Riesling/Zinfandel on the tag, but these are my all around favorite stems. Small bowled, short stemmed, big enough to swirl and get your nose into, they are great all purpose glasses with classic Riedel quality.
From Riedel: "The Riesling Grand Cru/Zinfandel glass is perfect for balancing the high acidity and residual sugar of fruit-forward white and red wines. This shape is the most versatile white wine glass in the RIEDEL range, however it also works perfectly well for a few red wines, like Zinfandel. It helps to balance the fresh characters and high mineral components, emphasizng the wonderful fruit aromas."

Riedel recommends for the following grapes/wine regions: Riesling Smaragd, Marsannay rosé, Welschriesling, Dolcetto, Teroldego, Côtes du Rhône Blanc, Bardolino, Montepulciano, Riesling, Jurançon Sec, Riesling (Spätlese/late harvest dry), Côtes de Provence, Scheurebe, Schilcher, Beaujolais Nouveau, Alsace Grand Cru, Vernaccia, Grüner Veltliner, Blauer Portugieser, Zinfandel, Primitivo, Smaragd.