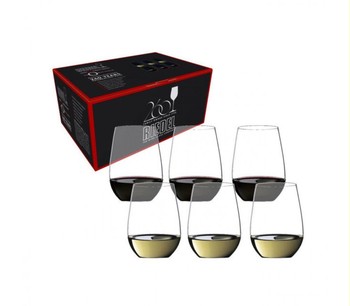 Riedel Stemless Riesling/Zinfandel Tumblers 6-pack
The Riesling glass is perfect for balancing the high acidity and residual sugar of fruit-forward white wines. This shape is the most versatile white wine glass in the RIEDEL range. It helps to balance the fresh characters and high mineral components, emphasising the wonderful fruit aromas.

This pack offers a great deal for six glasses. Machine-made and dishwasher safe.
Perfect for these grapes: Riesling Smaragd, Marsannay rosé, Welschriesling, Dolcetto, Teroldego, Bardolino, Montepulciano, Riesling, Jurançon Sec, Riesling (Spätlese/late harvest dry), Côtes de Provence, Lagrein, Scheurebe, Schilcher, Beaujolais Nouveau, Mosel-Saar-Ruwer, Alsace Grand Cru, Côtes du Rhône Rosé, Vernaccia, Grüner Veltliner, Blauer Portugieser, Zinfandel, Primitivo, Smaragd
Please note that all glassware is available for pickup only.