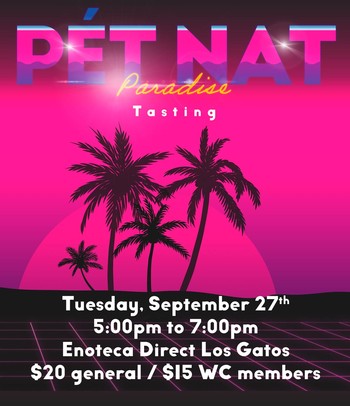 Pét Nat Paradise Tasting- Los Gatos
Tuesday, 9/27- 5:00pm to 7:00pm
Location: Enoteca Direct, 534 N. Santa Cruz Ave, Los Gatos
Date: Tuesday, September 27th
Time: 5:00pm to 7:00pm (arriving at 5 is not required, this is a casual tasting)
Tasting Fee: $20 general / $15 WC members
You may have heard the term Pét Nat, or seen these wildly (sometimes neon) colored sparkling wines with bottle caps, popping up recently in the media, wine stores such as ours, or hip restaurants and bars. So what's up with this new trend??
In fact, Pét Nat wines (short for "pétillant naturel", which approximately translates to "naturally sparkling" in French) is the oldest method of producing sparkling wine, having been developed in the 16th century. Unlike other sparkling wines, the carbonation is the process of the initial alcoholic fermentation. The juice is bottled during fermentation, while the yeast is still actively consuming the sugar in the juice. The carbon dioxide produced by this fermentation is captured inside the bottle, producing carbonation. The wines aren't disgorged and usually have zero additives, since they aren't opened after the fermentation process.
The resulting wines are juicy, easy to drink, and can have surprising complexity and depth. The texture of these wines are also really fun due to the extended contact with the yeast present inside the bottle. Additionally, it truly is a living beverage that changes over time as the fermentation inside the bottle continues- although most Pét Nats are designed to be joyously drunk as soon as they are purchased, many of the best will continue flavor development for a year or more.
Join us to learn about and taste Pét Nats from all over the world!
WINE LIST subject to change

RSVPs are requested but not required- walkups are welcome!