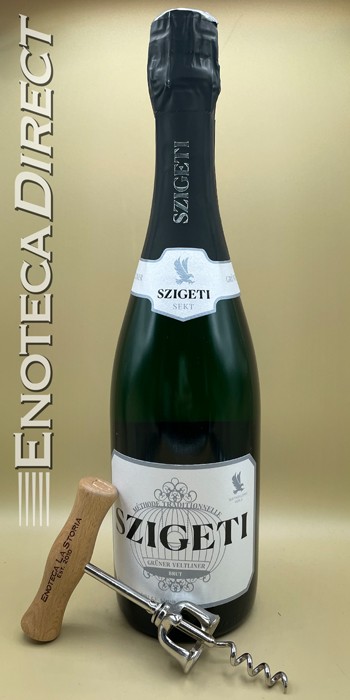 NV Szigeti Grüner Veltliner Brut
Neusiedlersee, Austria
Too good to be true?? That's what I thought after I tasted this wine and heard the price. This is absolutely delicious and a steal at this price! 100% Gruner Veltliner. The grapes are hand-harvested from Burgenland and Niederösterreich. The wine is fermented with Champagne yeasts in stainless steel tanks and spends twelve months aging on the lees.
Tasting Notes: The wine shows notes of green apple and citrus with the savory white pepper spiciness typical of the Grüner Veltliner variety.
Winery Notes: Szigeti (pronounced ZIG-it-ee) began in 1991 when brothers Norbert and Peter Szigeti took over the family business. Szigeti operates as a négociant, buying fruit from contracted growers and owning no vineyards. A broad range of wines are produced, all by the traditional method, and all made in fresh style with clear varietal expression.
Food Pairing: This Grüner Veltliner Brut will accent simply prepared fish and shellfish like the way a squeeze of lemon might. The citrus character of this wine will highlight the brininess of raw oysters, sushi, or grilled prawns while its acidity and texture perfectly compliment veal schnitzel and fried chicken.
90 points, Wine Enthusiast. "Glimpses of golden ripe mirabelle plum and the slightest hint of lovage create a lovely nose and continue to feature on the creamy, finely foaming palate. The body is wonderfully light, framed by foamy autolysis and pervaded by citrus peel freshness. A totally individual but refreshing Austrian fizz."