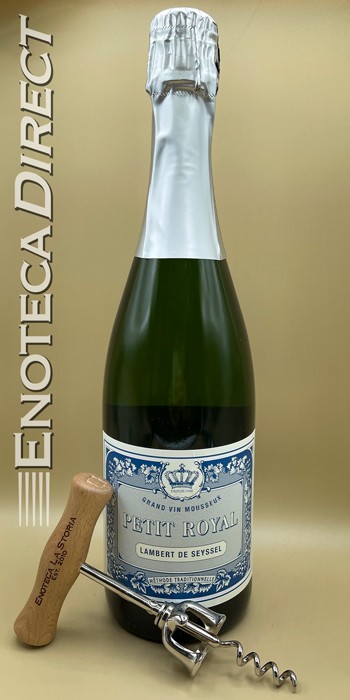 NV Lambert de Seyssel "Petit Royal" Brut
Savoie, France
Feel like Champagne, but don't want to splurge?? Go "Petit!"
60% Molette and 40% Altesse - indigenous white grapes in the Savoie region. Wine comes from a single vintage but is not labeled was such. Aged 10 months on lees. Dosage: 7-8 g/L.
The sparkling wines of Seyssel indulge in the same méthode traditionnelle production techniques used for Champagne, giving the wines complex, distinguished aromas and a fine perlage. The house style is also quite dry (low dosage) in order to preserve the character of the grape varieties.
Tasting Notes: Petit Royal is unequaled in the world of sparkling wine: alpine flowers, dried fruit, wildflower honey, and a toasty, yeasty note give this value sparkler an utterly delightful aromatic richness and complexity. Serve it with various salty toasts to kick off your next dinner party, or pop one open to liven up a night at home with a big bowl of mac and cheese.
Winery Notes: The "Royal Seyssel" label (originally called "Royal Carte Bleue"), launched in 1901 by the Varichon and Clerc families, was considered for many years to be the best sparkling Seyssel on the market. More recently, after years of ownership changes, Gérard and Catherine Lambert teamed up with Olivier Varichon, great-grandson of the founder, to buy back the Royal Seyssel label and recreate the light, floral wine that was once so renowned. Lucky us!