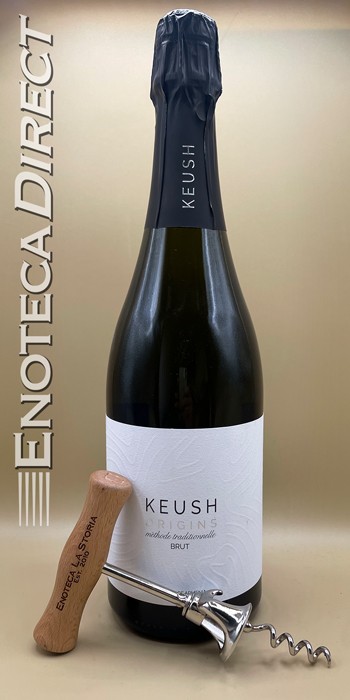 NV Keush 'Origins' Brut
Vayots Dzor, Armenia
Wine
Keush Origins is Vahe's flagship wine made with fruit sourced from various growers in Khachik. Voskehat and Khatouni (vines are "own-rooted" and between 60-120 years old. Farmed sustainably. Grapes are co-fermented in stainless to preserve acidity and aged on lees for at least 22 months before release. The label's embossed design alludes to topography. Origins is Vahe's expression of high-elevation viticulture and the possibilities of winemaking in Armenia.
60% Voskehat: White grape; aka "golden berry" is considered the emblematic white variety of Armenia, thriving in high-altitude, rocky soils, known for its longevity with vines living well past 100 years. Thick-skinned berries yield complex and expressive aromatics including the fresh scent of the Armenian Snowdrop flower.
40% Khatuni: White grape; thick-skinned berries, gives a notable crispness and unique floral expression to the wine.
Tasting Notes
Light straw color with a beautiful bubble play. Complex in aromas – floral and citrus notes, soft touch of fresh baguette crumbs, the traces of aging. Fresh and medium-bodied on the palate accompanied with mineral tones in aftertaste.
Winery Background
Keush winery was created by Vahe Keushguerian with a desire to create a product that married extreme high elevation farming and un-grafted ancient varietals. The vineyards are planted on rich volcanic soil. It is an opus with a 6000-year origin. The vineyards are positioned 500 meters from the Armenian/Azeri border and at 1800 meters are the highest in the country and among the highest in the world. Keush is a pioneer in making a Méthode Traditionelle sparkling wine from indigenous Armenian grape varietals.
Winemaker Arman Manoukian was born and raised in the wine region of Vayots Dzor. Arman received his BA and MA degrees in Viticulture at the Yerevan State Agrarian Institute and then went onto continue his education at the Viticulture and Enology School of Montpellier, France. He has been the chief winemaker for Keush since its inception in 2013. Jerome Barret is consulting winemaker. He has extensive experience working in Champagne, having worked as cellar master for two major champagne houses; Nicolas Feuillatte and Champagne Boizel.
Grapes are sourced from Vayots Dzor province in Armenia. The vineyards are un-grafted, 60- 100 years old. Located between 1500-1800m above sea level. These are some of the highest elevation vineyards in the northern hemisphere and, at 1800 meters, the highest elevation vineyards in the world that produce méthode traditionnelle wine!
90 points, Wine Enthusiast. "Pale straw in the glass, this wine features a persistent column of tiny bubbles. It has aromas of white peach and lemon curd and flavors of Granny Smith apple, Sevilla orange, nectarine, nutmeg and roasted fennel bulb. It is creamy on the palate and offers a surprisingly spicy finish."