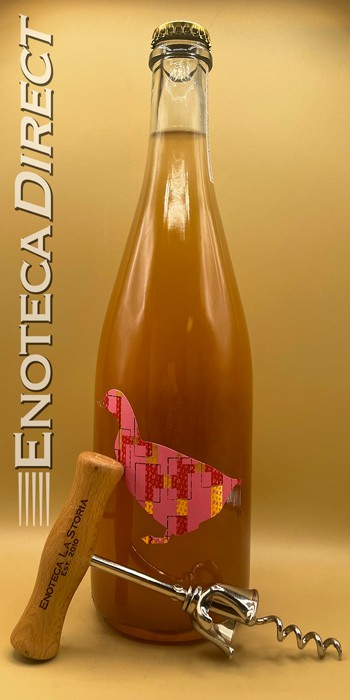 NV Duckman (João Pato) 'Rosa Duck' Pét Nat Rosé
Bairrada, Portugal
95% Fernão Pires, 5% Baga, all organic, from 30 year old vines. Maceration of white and red grapes occurs in plastic eggs for five days, followed by spontaneous fermentation in stainless steel with ambient yeasts lasting three weeks under temperature control. No liquor de tirage added. Not fined or filtered.
Seriously tastes like guava nectar- like you should be drinking this for breakfast on vacation in Hawaii! A bouquet of peonies and rose mingles with melon and tart strawberry accents on the nose while the palate shows a red apple element slightly reminiscent of a dry cider along with salted watermelon, pomegranate and wet river stones. While certainly light and nimble on the palate, the amount of sediment that contributes to its hazy appearance also lends a perceived weight.
The Duckman wines express the true character of Bairrada's indigenous varietals and its exceptional maritime influence. There are no indications of the region on the labels, done intentionally to demonstrate an acute sense of place and varietal typicity through minimal intervention in the cellar. Maria Pato, the daughter of Luis Pato, created this project because of her love of the region and varietals, so much so that she felt constrained by the standards of Bairrada wine making. For both of them only the indigenous varietals can be Bairrada wine, not imports that want to claim it as their own identity. Luis and Maria work from two main vineyards, Amoreira da Gândara which is composed of mostly sandy soils, and Óis do Bairro which is composed of mostly chalky-clay soils. Here they grow both red and white varietals: Baga, Bical, Cercial, and Fernão Pires (a.k.a. Maria Gomes).