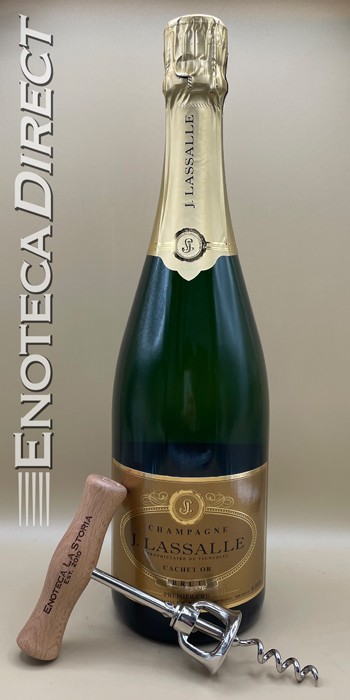 NV J. Lassalle Brut Champagne 'Cachet Or'
Champagne, France
This is one of the best values in Récoltant-Manipulant (grower-producer) Champagne!
A blend of equal parts Chardonnay, Pinot Noir and Pinot Meunier from 50 year old vines on clay and limestone soils in the village of Chigny-Les-Roses. Three years on the lees adds depth, complexity and a rich creamy aspect to this wine. The fruit still feels fresh, with ample acidity to offset the 9g/l dosage. Finishes rich, creamy yet dry, and mineral. We love this wine!
Jules Lassalle established this family-owned Champagne house in 1942 in the village of Chigny-Les-Roses on the Montagne de Reims. A master of his craft, he established a signature style of elegant, tightly knit wines with a certain ampleur. When he passed away in 1982 his wife, Olga, and their daughter, Chantal Decelle-Lassalle, stepped in and took over the estate, upholding Jules' high standards and progressively pushing the domaine to the next level. In 2006 Chantal's daughter, Angéline Templier, joined the estate as winemaker. Their twenty-eight-year tradition of "une femme, un esprit, un style" (one woman, one spirit, one style) holds true today more than ever.
Champagne J. Lassalle works with all three varietals authorized in the region (Chardonnay, Pinot Noir, and Pinot Meunier) on sixteen hectares of vineyards, all of them premier cru. These tough, hardworking women continue to follow the vinification methods established by Jules in the forties: they use the same wooden basket press he installed in the winery over fifty years ago, pressing and vinifying the individual plots separately. It is one of the rare Champagnes that has been allowed to finish its malolactic fermentation, just like the great whites from the Côte d'Or, and all cuvées are aged extensively once in bottle—even the non-vintage cuvées, which are a minimum of five years old. This results in an astonishing complexity and depth from the beginning of their range up to the luxury cuvées. ~Kermit Lynch Importer Notes
92 points, Wine Spectator. "There's an open-knit, almost airy feel to this vibrant Champagne, which carries a concentrated range of juicy pear and black raspberry fruit, with hints of crystallized honey. Shows gingersnap biscuit and verbena flavors on the chalky texture, gaining momentum on the racy, zesty finish."