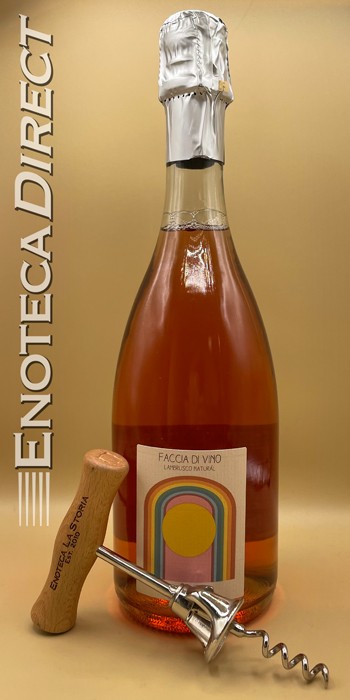 NV Faccia di Vino Lambrusco Rosé Natural
Emilia-Romagna, Italy
100% Lambrusco Sorbara. All natural. Made from Sorbara, the lesser known Lambrusco grape varietal with less-pigmented skins, you get a pink wine with the style's short maceration/quick press. Certified organic farming, clay soils, fermented in stainless steel, held at low temperature and only bottled upon demand to preserve freshness, 30 year old vines; minimal SO2 at bottling only.
Super dry, with salty raspberries, tart peaches, wild herbs and a puckery pomegranate finish, so refreshing and drinkable! This one is lightly sparkling – just enough to cleanse your palate after a bite of cheese and salumi (the traditional pairing). Chill this like you would a white wine and drink straight from the fridge. Glass optional.
Faccia di Vino is a collaboration between Amy Atwood, a CA-based natural wine importer, and Azienda Agricola Pezzuoli, a family-owned winery in the heart of Modena with awesome woman winemaker, Coly Den Haan. They're not only certified organic, but also have a super low carbon footprint: the winery is in process of a 100% solar panel conversion, the glass bottles are clear and recycled, the wine capsules are biodegradable, PVC free and PET certified, and the wine boxes it ships in are 100% recycled and eco-friendly certified. This is the model we'd love all wineries to follow -- amazing!
Wine Specs
Appellation
Emiglia-Romagna