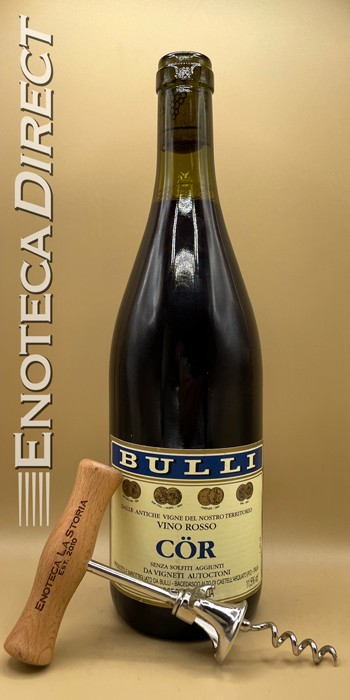 NV Bulli 'Cör' Colli Piacentini Vino Rosso
Emilia-Romagna, Italy
A blend of 60% Barbera, 30% Bonarda and 10% Uve Rare grown on alkaline limestone soils known as San Faustino, Montemaggiore and Gorgognan and fermented with native yeasts. Farmed organically and produced without added sulfur- Leonardo is especially proud of the fact that they have never used sulfur dioxide; in fact, senza solfiti aggiunti is written on their original vintage-kitsch style labels from the 1950's.
Tasting Notes
The wine showcases a vibrant fuscia color in the glass, emitting lovely aromas of cranberry, red flowers and a briney, sea-shell minerality. The palate is light and focused, zippy and refreshing with flavors of fresh raspberry and crunchy red fruits combining with a saline mineral tinge to propel the wine into an energetic and alluring finish. This is an honest farmer's wine, one which is described as semplice ma non banale — simple but not boring. Enjoy with a plate of assorted artisanal salumi.
About Bulli
Leonardo Bulli runs his family domaine, Bulli, in the northwestern part of Emilia-Romagna, in the Colli Piacentini, the hills just south of Piacenza, between the Po river to the north and the Apennine mountains to the south. There's a long tradition of making frizzante metodo ancestrale; in this area, and Bulli has been doing it for five generations, since the late 1800's. Don't get the idea that this is a family with a castle. The Bulli family is humble, easygoing, happy to serve locals everyday from their repurposed horse stall, where all the sparkling in the bottle fermentation happens. One key that helps preserve their wines without SO2, and gives them a sprightly character, is the soil. Bacedasco Alto is the town where the Bulli family has their house and horse-cellar, and it is right next to an important geological park that contains a series of ancient limestone calanques from the Pliocene period.