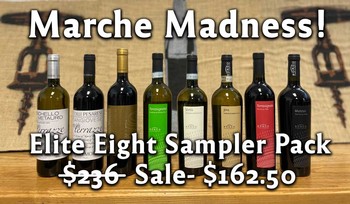 Marche Madness 'Elite Eight' Sampler
Le Marche, Italy
It's mid-March and you know what that means- it's time for Marche Madness!

We're not talking college basketball here, but one of Italy's most under appreciated wine regions- Le Marche, located on Italy's Adriatic (eastern) coast smack dab in the center of the country. There are about 60,000 acres under vine in this region, and it is mostly devoted to its traditional white wine varietals of Verdicchio and Trebbiano. While it is often overshadowed by its more famous neighbors of Abruzzo and Tuscany, Le Marche produces stellar wines (both white and red) at very reasonable prices.

There are a variety of terroirs, ranging from mountains in the west to a coastal Mediterranean climate in the east to a warmer continental climate in the north, with a wide range of soil types and exposures.

We've put together an "Elite Eight" sampler of wines from two stellar producers in the region, Borgo Paglianetto and Claudio Morelli, to help you explore this region and its myriad wine styles. It's up to you to determine who advances in the brackets to become this year's "Marche Madness Champion."

Purchase our eight bottle sampler pack and decide on your own at home, or join us for our Marche Madness tasting on Tuesday, 3/29 in Los Gatos to taste all eight wines.
Each "Elite Eight" pack contains one bottle each of the following wines: