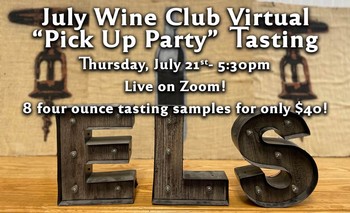 July Wine Club VPUP Tasting Kit
Thursday, 7/21 at 5:30pm
Join us on Thursday, July 21st at 5:30pm for the latest in our popular series of Virtual Pickup Parties (VPUP).
This tasting kit will contains eight 4oz bottles of wine- the perfect amount for two people.
We meet live on Zoom, where Mike and Ryan will pour and discuss ONE wine from each club, that's EIGHT wines, and then take questions. We will once again feature a "Mystery Wine" to taste together using the Deductive Tasting Grid. Download the Deductive Tasting Grid here.
Now, you don't have to be a club member to participate. Everyone is welcome, so grab your kits and feel free to invite some friends over to (safely) join in! If you're NOT a club member, here's your chance to get an idea of the fun you've been missing out on. Click here to read about all of our clubs and to join a club online.
JULY'S WINE LIST subject to change
2020 Chesebro Vermentino Arroyo Seco, California
2020 Thorne & Daughters Menagerie Grenache Gris and Grenache Western Cape, South Africa
2019

Niklas Pinot Bianco

Alto Adige, Italy

2018

Annesanti "Fonte Faro" Grechetto

Umbria, Italy
2015

Tolaini Gran Selezioni

Tuscany, Italy
2015 Viñas del Jaro Chafandin Ribera del Duero Ribera del Duero, Spain

2018 Folded Hills "August" Red Santa Ynez Valley, California
2019 Preston "L. Preston" Red Dry Creek Valley, California
MYSTERY WINE!!
Tasting kits are available for pickup at the following times and locations:
-Enoteca La Storia

Los Gatos Pick-up

Wednesday 7/20: 12:00pm-7:00pm
Thursday 7/21: 12:00pm-5:00pm

-Enoteca La Storia San Jose Pick-up

Wednesday 7/20: 12:00pm-8:00pm
Thursday 7/21: 12:00pm-5:00pm

Purchasing a tasting kit will automatically register you for the Zoom tasting.