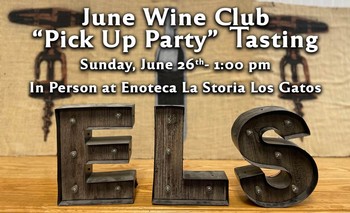 June Wine Club Pick Up Party (IN PERSON)
Sunday, June 26th- 1:00pm to 3:00pm
THIS EVENT HAS BEEN CANCELLED- APOLOGIES FOR ANY INCONVENIENCE.
We're so excited to finally welcome you back to a live, in person wine club pick up party for the first time in years.
Join us at Enoteca La Storia Los Gatos on Sunday, June 26th to taste ten wines from June's wine club selections. This will be an informal, walk up tasting. Indoor and outdoor seating will be available. Please note that the Enoteca La Storia kitchen will be closed.
Tentative Wine List:
2020 Il Colle Rosé Prosecco DOC Veneto, Italy
NV Jansz Brut Tasmania, Australia
2020 Voštinić – Klasnić Ŝkrlet Dalmatian Coast, Croatia
2018 Zorzettig Verduzzo Friuli, Italy
2020 Semeli Mantinia Peloponnesos, Greece
2019 R8 Chardonnay North Coast, California

2020 Niepoort Twisted Douro, Portugal
2018 Giornata Aglianico Paso Robles, California
2018 Hendry Primitivo Napa Valley, California
2019 Angeleno Wine Co Alonso Family Tannat Los Angeles, California