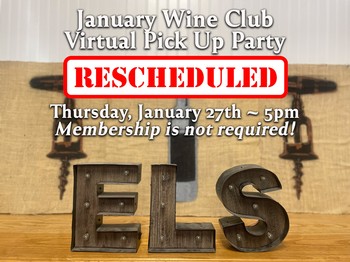 January Wine Club VPUP Tasting Kit
RESCHEDULED- Due to supply chain issues beyond our control, this month's Wine Club Virtual Pick Up Party has been rescheduled to Thursday, January 27th at 5pm. Please see updated pickup times below.
Join us on Thursday, January 27th at 5pm for our first Wine Club Virtual PickUp Party (VPUP) of the new year! Thanks to the Omicron variant along with ongoing staffing shortages, we have decided to stay virtual until at least March……
This tasting kit will contains eight 4oz bottles of wine- the perfect amount for two people.
Mike and Ryan will pour and discuss ONE wine from each club, that's EIGHT wines, and then take questions. We will once again feature a "Mystery Wine" to taste together using the Deductive Tasting Grid. Download the Deductive Tasting Grid here.
Now, you don't have to be a club member to participate. Everyone is welcome, so grab your kits and feel free to invite some friends over to (safely) join in! If you're NOT a club member, here's your chance to get an idea of the fun you've been missing out on. Click here to read about all of our clubs and to join a club online.
Tasting kits are available for pickup at the following times and locations:
-Enoteca La Storia San Jose Pick-up

Wednesday 1/26 1:00pm-5:00pm
-Enoteca La Storia

Los Gatos Pick-up

Wednesday 1/26 and Thursday 1/27 during regular business hours
Purchasing a tasting kit will automatically register you for the Zoom tasting.