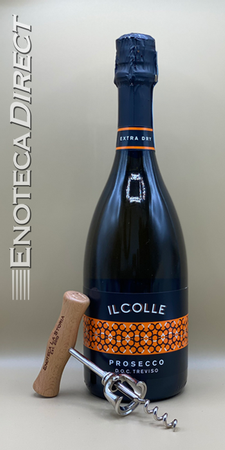 Il Colle Prosecco Extra Dry "Orange" DOC
Veneto, Italy
From the sub region of Treviso, this is the more traditional extra dry level of sweetness popular in Italy as the perfect aperitivo. Crisp acidity compliments the soft, round texture that is bursting with sweet, ripe peach, juicy apple, citrus, apricot and fresh floral aromas. An ultra creamy mousse rolls off the palate with a subtle kiss of tangy sweetness that makes this a perfect everyday wine!
Winery Background
Il Colle "The Hill" was founded in 1978 in San Pietro di Feletto (Treviso) by the Ceschin family, in the heart of the production area of Conegliano Valdobbiadene Prosecco Superiore DOCG. The family of the founders were dedicated to wine production since the early '20s and has remained tied to this tradition from generation to generation, to the point of becoming, with the passage of time, synonymous with quality and point of reference for local producers.
Given the geographical location, most of the production is aimed at Prosecco. The grapes are harvested by hand, are cultivated, selected, vinified and bottled with great care and passion to give life to a full range of sparkling wines, white wines, red wines, dessert wines, and grappa and spirits.