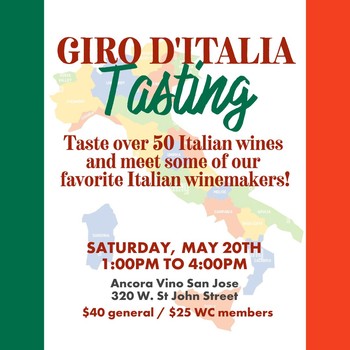 Giro d'Italia Tasting- 5/20 in San Jose
Meet some of our favorite Italian winemakers!
Okay, if there's one tasting event that's not to be missed, it's THIS one! Why? Marc & Paula of Girasole Imports – and the families they have partnered with - are very near and dear to our hearts – and so are their wines! In fact, if you are reading this email, it's very likely that you have tasted and enjoyed MANY of the wines made by the families that Marc & Paula represent.
We have worked closely with Marc & Paula over the past several years to build a portfolio of producers from Italy, most of whom are small, family-owned and operated AND have NEVER been available in the U.S. (if not California) before. These families are dedicated to crafting honest, classically-styled wines of singular quality and personality. We are proud to support and represent them. We consider them family. We love to drink their wines. I'm talking about old friends like Pisoni, L'Arco, Zorzettig, Monteci, La Ca' Nova, Annesanti, Il Colle, Collemattoni, Fonzone, Viberti, Caven, Due Terre…and newer ones like Tenuta Bellafonte, Casa Comerci, Lornano, Tenuta I Fauri, Grippaldi, Platinetti…and more.
We've selected OVER FIFTY wines to pour to show off the amazing and special things these families are doing. And that's not all…We'll have FIVE family and/or winery representatives from Italy here to pour AND talk about their wines! Here are the folks who will be here:
Peter Heilbron of Tenuta Bellafonte (Umbria)
Marcello Bucci of Collemattoni (Montalcino)
Sara Ceschin of Il Colle Prosecco (Veneto)
Nicoló Pozzoli of Lornano (Chianti)
Amedeo De Palma of Fonzone (Campania)
Amici, this is a once-in-a-lifetime event. You don't want to miss this one. Of course, all the featured wines will be sale-priced on the day of the event.
$40 general / $25 WC members WC members, please log in using the email address associated with your membership to access your special discount.