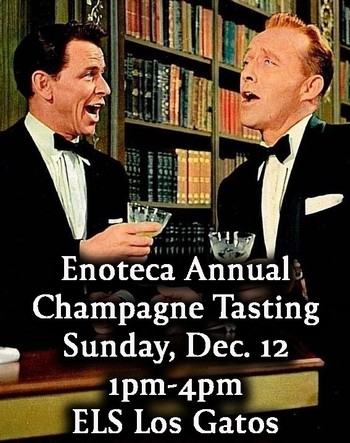 Champagne Tasting- Sunday 12/12 LOS GATOS
ELS LG- 1:00pm to 4:00pm
Join us on Frank Sinatra's birthday weekend for our annual Champagne extravaganza! Our resident Champagne freak, Mike Guerra, has selected an incredible lineup of ten grower Champagnes for your holiday drinking pleasure.
You are signing up for the Champagne tasting on Sunday, December 12th at Enoteca La Storia Los Gatos.
Date: Sunday, December 12th
Time: 1:00pm to 4:00pm
Place: Enoteca La Storia Los Gatos
416 N. Santa Cruz Ave
Los Gatos, CA 95030
Want to sign up for the tasting on Saturday, December 11th at Enoteca La Storia San Jose? Click here!