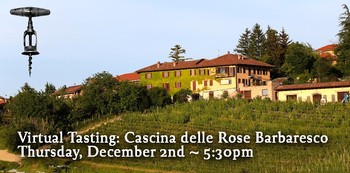 Cascina delle Rose Virtual Tasting 12/2
When we first tasted these wines, we were blown away and knew we had to get them into your glasses.
Join Mike and Ryan as we welcome our good friend Jason Moore of Alluvial Imports to guide you through a tasting of these spectacular wines on Thursday, December 2nd at 5:30pm.
Established in 1948, Cascina delle Rose sits in the Rio Sordo valley of Barbaresco. This tiny estate has only 7.5 acres planted to Dolcetto, Barbera and Nebbiolo. It is an incredibly immaculate and meticulously-run estate. The family practices organic farming — the utmost respect given to the earth — with all the vine care done manually. Owner and winemaker Giovanna Rizzolio's family had only produced wine for family consumption since the 1940s, selling the majority of their fruit to other producers. Together with her husband Italo and sons Davide and Riccardo, Giovanna started making wine in 1992 and now produces about 2,000 cases per year.
Each tasting kit will include one 4oz tasting size bottle of the following wines:
2018 Dolcetto d'Alba DOC "A Elizabeth"
2017 Barbera d'Alba DOC Superiore "Donna Elena"
2019 Langhe Nebbiolo DOC
2017 Barbaresco DOCG "Tre Stelle"

95 WE

2016 Barbaresco DOCG "Rio Sordo"

96 WE

2014 Barbaresco DOCG "Tre Stelle"

94 WS
"Cascina delle Rose is without question one of the emerging estates in Barbaresco. Readers who have not tasted these wines should make a point of doing so, as they encapsulate everything that makes Barbaresco so alluring." ~Antonio Galloni
**Wine list subject to change.**