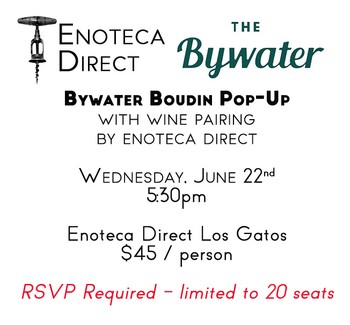 Bywater Boudin & Wine Pairing
Wednesday, June 22nd ~ 5:30pm
Join us for a special pop up featuring Bywater chef David Morgan's house-made boudin perfectly paired with six wines from Enoteca Direct.
What is boudin? Well, it's about as Cajun as it gets. Traditionally, boudin is made from a blend of pork cooked down with onions, peppers, seasonings, & cooked rice. This completely cooked mixture is then stuffed into a casing like sausage. The origins of boudin date back over two centuries to when the Acadians migrated to Louisiana from Nova Scotia and France. Today, the dish is growing in popularity and the traditional recipe, which often included fresh blood, has evolved and fused with many different cultural cuisines to produce something entirely new.
Chef Dave has specially crafted three types of boudin for us:
Shrimp and rice noodle boudin (Chinese)
Turkey pineapple pastor boudin (Mexican)
Traditional pork boudin (Louisiana)
Each boudin will be served with crackers and hot sauce and paired with two unique wines. You'll get four ounces of each boudin- so there should be enough for leftovers!
Wine List subject to change
RSVP is required- limited to 20 seats.