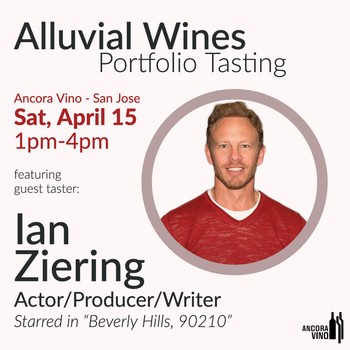 4/15- Alluvial Grand Portfolio Tasting
81 wines!! 1-4pm in San Jose
"A STAR-STUDDED EVENT" - ALLUVIAL PORTFOLIO TASTING
with Guest Taster – Ian Ziering (of Beverly Hills, 90210 and Sharknado fame)!
Ancora Vino San Jose
320 W St. John St
Saturday, April 15th
1:00pm to 4:00pm
$40 general / $30 WC members
Pullus. Thymiopoulos. Kobal. Cascina delle Rose. Seméli. Amisfield. Chateau la Borie. Forget-Brimont. Jean Diot. Giró I Giró. Tessier. Big Basin. Avennia. Portalupi. Villa Creek. Baxter. Tin Barn. Eden Rift. Cellars 33. Kinero…
If you frequent ANY of our locations, these producers and their wines are ALL familiar to you. These are, without doubt, some of the most popular and well-liked labels we carry – and drink ourselves. What do all of these fantastic producers and their delicious wines have in common?? They (and other favorites) are represented by Alluvial Wines, Inc. That's right, Alluvial is the "name behind the names" that we all know and love – and we're hosting an Alluvial Portfolio Tasting with a "star-studded" lineup of some of their most popular wines for you to taste! But wait – that's not all!
Speaking of stars, our friend, business partner AND wine-curious celebrity, Ian Ziering (of Beverly Hills, 90210 and Sharknado fame) will be here to taste and explore these amazing wines along with you! To remind you, Ian has embarked on a journey to learn about and experience the best that the world of wine has to offer – and the Enoteca team are his chosen tour guides! When we decided to showcase our favorite wines from Alluvial, we knew we had to invite Ian so he could check out these fantastic producers and wines. You should too!
This tasting is going to be legendary. You don't want to miss this one. Buy your tickets now.
WINE LIST
TABLE 1 - Scale Wine Group
Julliet-Lallement Brut, Reims NV
Maison de la Chappele Borgogne Aligote 2020
Furthermore Pinot Noir, Russian River 2019
Eden Rift Chardonnay, Terraces 2019
Eden Rift Pinot Noir, Estate 2018
Kanzler Pinot Noir, Russian River 2021
Jack Tar Cabernet Sauvignon, Paso Robles 2020
Recoltant Cabernet Sauvignon, Napa 2019
Recoltant Cabernet Sauvignon Reserve, Napa 2019
TABLE 2 - Montaigne Imports (France)
Grand C Cremant d'Alsace NV
Domaine de Tilleuls Muscadet "Essentielle" 2020
Comte d'Henry Pouilly Fume 2020
Ch Michel de Montaigne Bergerac Blanc 2018
Domaine Cordier Saint Veran 2020
Domaine Cognard Borgogne Chardonnay 2019
Domaine Lafran-Veyrolles Bandol Rose 2021
Domaine Blain Souer et Frere Brouilly 2018
David Large Beaujolais Gamayhameha 2020
Domaine D'Ourea Gigondas 2019
Domaine Jean-Baptiste Jessiaume Santeney Rouge "Le Forge" 2021
Domaine Humbert Gevrey Chambertin V.V. 2017
TABLE 3 - Croatia, Slovenia, Bosnia, Serbia
Kobal Furmint, Stajerska, Slovenia 2022
Kozlovic Malvasia, Istria, Croatia 2021
VK Skrlet, Moslavina, Croatia 2021
Brkic Zilavka, Mostar, Bosnia 2021
Skegro Orange Zilavka, West Herzegovina, Bosnia 2021
Heaps-Good Blaufrankisch Pet Nat Rose, Stajerska, Slovenia 2020
Zajc Cvicek "Full Circle," Dolenjska, Slovenia 2021
Bikicki Sfera Noir, Sremska, Serbia 2021
Rodica Refosk, Istria, Slovenia 2018
Pomalo Plavina, Dalmatia, Croatia 2021
Bura Basina Tribidrag, Peljsac, Croatia 2019
Zlatan Plavac Mali, Hvar, Croatia 2015
TABLE 4 - Spain
Giro y Giro Cava Elaboracio Artesana Brut Nature NV
Moraima Albarino "ABA," Rias Baixas 2021
Tantaka Tkakoli Blanco 2021
Barco del Corneta Verdejo "Cucu," Castilla y Leon 2021
Baldovar Merseguera Blanco "Canada Paris," Valencia 2019
Vina Elena Monastrell "Paraje Marin," Jumilla 2020
Akilia Mencia "VSL," Bierzo 2019
Anonimas Mencia "Catro e Cadela, Galicia 2020
Vega Valterra Tempranillo Crianza, Valencia 2018
A Pie de Tierra "A Dos Manos" Garnacha, Mentrida 2018
Teimosia, Pontevedra, Galicia 2017
La Loba Ribera del Duero 2018
TABLE 5 - Greece, Cyprus
Tsiakkas Xinisteri, Pitsillia, Cyprus 2021
Atma Assyrtiko, Naoussa, Greece 2021
Ktima Spiropoulos Mantinia, Pelopennese, Greece 2020
Oenops Vidiano, Crete, Greece 2020
Anatolikos Malagouzia "Wild Ferment", Thrace, Greece 2018
Tsiakkas Mouklos, Limassol, Cyprus 2021
Apla Red, Drama, Greece 2020
Tsililis Theopetra Limniona, Meteora, Greece 2019
Thymiopoulos Xinomavro "Earth and Sky," Naoussa, Greece 2019
Semeli Nemea Reserve, Pelopennese, Greece 2017
Terra Petra Rapsani, Olympus, Greece 2019
Tsiakkas Commandaria, Limassol, Greece 2017
TABLE 6 - Alluvial Domestic
Big Basin Pinot Noir, Dune and Mountain, Central Coast 2021
Big Basin Homestead, Rhone Blend, CA 2018
Alta Colina Vinognier, Paso Robles 2021
Alta Colina Syrah "Old 900," Paso Robles 2020
Tessier Soul Love, Red and White Blend, CA 2022
Tessier Pinot Noir, Saveria Vineyard, Santa Cruz Mountians 2021
Accenti Carignan "Village," Colombini Vyd, Mendocino 2021
Thereafter Cabernet Sauvignon "Three Gardens," Napa 2020
Kinero Grenache Blanc "Alice," Paso Robles 2022
Royal Nonesuch Farm Red Blend, York Mountain 2020
Villa Creek "Rocks and Flowers," Paso Robles 2020
Villa Creek "High Road," Paso Robles 2020
TABLE 7 - Alluvial Direct
Josie Rose, Marsh Creek Vineyard, Contra Costa 2021
Doren Cabernet Sauvignon, Sonoma Valley 2018
Clara C Prosecco Brut DOC NV
Clara C Prosecco Organic Extra Dry NV
Johannes Zillinger Gruner Veltliner "Velue," Niederosterreich, Austria 2021
Johannes Zillinger Zweigelt, Niedorosterreich, Austria 2021
Hermit Ram Sauvignon Blanc, North Canterbury, NZ 2021
Hermit Ram Pinot Noir, North Canterbury, NZ 2020
Chateau La Borie Rose, Rhone, France 2021
Chateau La Borie Cotres du Rhone Villages 2019