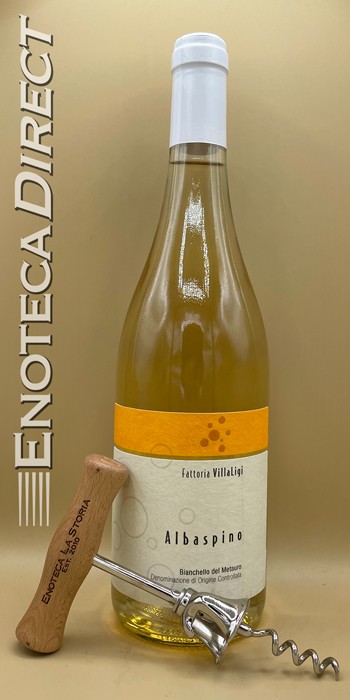 2021 Villa Ligi 'Albaspino' Bianchello Del Metauro DOC
Le Marche, Italy
The Bianchello del Metauro Albaspino is made from 100% Biancame, a local, small-berries clone of Trebbiano that is closely related to the Procanico grape of Orvieto. There are just two hectares (5 acres) of Biancame at Villa Ligi. The grapes are hand-harvested, fermented in concrete tanks, and the wine matures for six months with regular batonnage before bottling in the spring following the harvest.
Easy, fresh, fun and slightly aromatic, with some herbal hints to the ripe fruit on the nose here. The last Bianchello wines we had here reminded me of kiwi fruit, and this does too. Medium bodied, super smooth and clean, with fresh fruit flavors and a bit of briny minerality. Crushable.
The Tonelli' family has grown grapes since 1912, when Stefano's great grandfather, Antonio Tonelli, planted vines between his rows of wheat, and with his brother, began to make wine for local consumption. In 1964, Antonio's son, Cesare, built a new winery, and in 1985, his son, Francesco, began to estate-bottle some of the production. Originally a teacher, Francesco found himself drawn back to the farm by the growing demand for bottled wine, and eventually, he contributed to the creation of the D.O.C. Pergola, and dedicated himself to the preservation of local grape varieties that were at risk of extinction. They became not only good producers but also excellent wine merchants, a tradition that was continued by Francesco despite the threat of a collapse of the local wine market resulting from the closure of the nearby sulphur mine, the largest in Europe with a substantial workforce. He still works every day, and recently co-authored an impressive book on the history of viticulture in the Marche, and on his lifelong efforts to save endangered local varieties. Today, Stefano Tonelli and his wife, Léa Pailloncy (from Provence and formerly a pro badminton player!), who arrived at Villa Ligi in 2014, manage day-to-day operations.