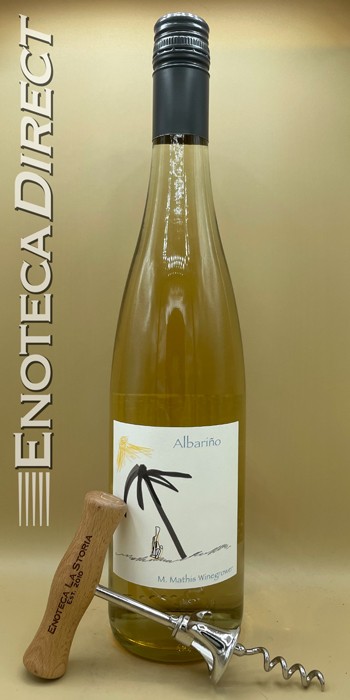 2022 M. Mathis Estate Albariño
Santa Cruz Mountains, California
We're lucky to get three cases of this, only the second vintage of legendary local winemaker Marty Mathis's Albariño, planted pergola-style on the estate vineyard off Pierce Road in Saratoga. Only 50 cases were made!
Marty is best known as the winemaker for Kathryn Kennedy Winery, which his mother founded, as well as his Lateral project in Napa Valley.
100% organic Albariño, CCOF certified. 12.0% alcohol.
In Marty's own words:
"In the formative years of my wine knowledge during the 1970 and 80s; the University, the wine media and my mentors (including Kathryn) focussed exclusively on the most famous French wines - Cabernet, Pinot Noir and Chardonnay... to the utter exclusion of so called "lesser regions" and grape varieties. Only in my later years, I was able to travel to the back roads of Europe and dis- cover an exciting wealth of other growing techniques, flavor profiles and grape varieties that have nothing to do with the California wine scene I was taught. The M. Mathis WineGrower label is my new vehicle to share what I learned. Albariño, it is a white grape indigenous to Rías Baixas. Its taste and texture, is like a crossover between the crisp, refreshing acidity of a Riesling, with fruit aromas of a Pinot Grigio, or Viognier. Albariño with fish and seafood are interwoven in the gastronomical culture of Galicia . You won't go wrong if you serve Albariño with simple grilled or white fish, mussels shellfish, oysters and so on. It is also a good companion with Thai and Japanese cuisine or pastas in light butter. It took 8 years of hard work from the point of my travels to Rias Biaxas, though building our own pergolas and growing these vines surrounding our winery building in Saratoga CA, until I could offer this bottled wine to you.