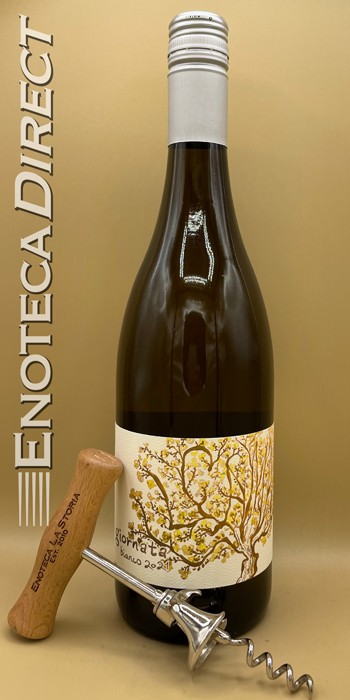 2021 Giornata 'Il Campo' Bianco
Paso Robles, California
A of blend 39% Falanghina, 29% Arneis, 25% Pinot Grigio, and 7% Vermentino. The Falanghina is sourced from the Castoro Jack Knife Vineyard in the Estrella District of Paso Robles. The Pinot Grigio comes from the Santa Margarita Vineyard in southern-most part of Paso Robles. The Falanghina grows on silty clay-loam with excellent drainage on a 50% slope facing Northeast. The vines are own-rooted and are organically-farmed. The Pinot Grigio grows on soils made up of ancient seabed, shale and rocky alluvium at an elevation of 1200 feet. After harvest the grapes were de-stemmed, crushed and soaked on skins for a few hours. They were then small-basket pressed into stainless steel and fermented using native yeasts.
This wine is reminiscent of the great coastal white wines of Italy. With Aromas of butterscotch, macadamia and lemon pith, this full, not weighty, body wine presents to the palate lemon peel, toffee and a finish reminiscent of endive.
I found this wine totally gulpable – which always excites me. It's got some weight and texture, but is still lively and fresh. While at the tasting room, I kept coming back to this wine and taking a slug. I find its bright acidity and subtle pear and apple flavors totally beguiling. Made to go with seafood, it will pair beautifully with sea scallops and jumbo shrimp pan-seared in butter and olive oil over linguine – or even fish tacos, salads, appetizers. It also went perfectly with the little picnic of cheeses, meats, dried fruit, nuts and baguette we brought back to enjoy on the patio at the tasting room…Just sayin'.