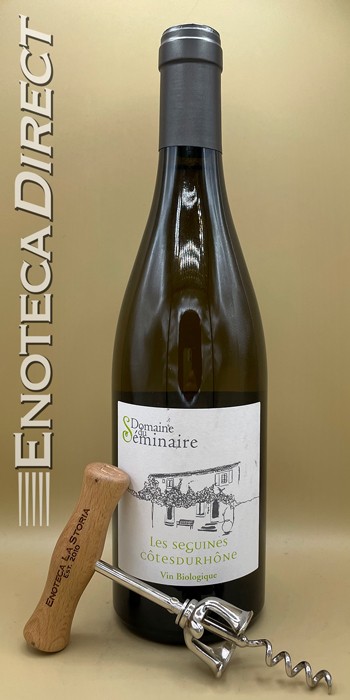 2021 Domaine Du Seminaire Côtes Du Rhône Blanc "Les Seguines"
Rhône, France
We don't drink enough white Rhône wines.The vast majority of the output, both in terms of what is grown and what we sell, is comprised of red wine. And there's nothing wrong with that- we love Rhône reds! But at this time of year, when it starts to get cold and dark earlier and earlier in the day, and food on the table starts to get richer and more fall-spiced- this is the time we need Côtes du Rhône Blanc! If you're a self-avowed Chardonnay "hater" and you don't want to go back on your word- Côtes du Rhône Blanc is for you! They often (I hesitate to characterize the wines, as they can be made in many different styles with totally different blends) have lots of lovely mouthfilling texture from the inclusion of Marsanne and Roussane, with ripe notes of yellow apple and tropical fruit for all the Chard lovers. They've also got lovely aromatics from the Viognier, and the best have steely acidic cut from Grenache Blanc. These wines pair so well with classic Thanksgiving staples: turkey, stuffing, and mashed potatoes. Or try it with a simple roast chicken with a little lemon juice squeezed on top. It's so simple and so good. -Ryan Smith
30% Marsanne, 30% Roussane, 20% Viognier, 10% Grenache Blanc, 10% Clairette. Farmed organically. Fermentation and elevage occur in concrete vats with native yeasts and very light filtration.
"High toned, bright and floral. It smells like pineapple and flowers, and tastes like tropical fruit and lemon curd, with a pleasant bitterness and bright acidity offsetting the natural richness of texture, making this a fantastic wine for all the fall foods starting to grace our tables."
On 100 hectares (about 250 acres) of land in the hills above the village of Valréas, a beautiful Provençal house, surrounded by olive and truffle oak trees, lavender fields, and thick forest, is the center of the idyllic micro-estate of Domaine du Seminaire. The vineyards comprise 60 hectares (about 150 acres) and are near the northern limit of ripening Grenache, in the colder foothills of the Alps, where they are swept by the strong mistral winds.
Hervé Pouizin is the fourth generation to farm this land; he and his wife, Mathilde, have preserved the self-sufficient estate mostly as it was a century ago, with one key exception: they converted everything to organic farming. Fermenting their wines in the same huge concrete tanks since 1938, the couple takes an old-school approach to winemaking and uses no oak. They produce high-toned, bright, floral wines, in keeping with their region and elevation, bottled early to preserve the fruit and with minimal sulfur.