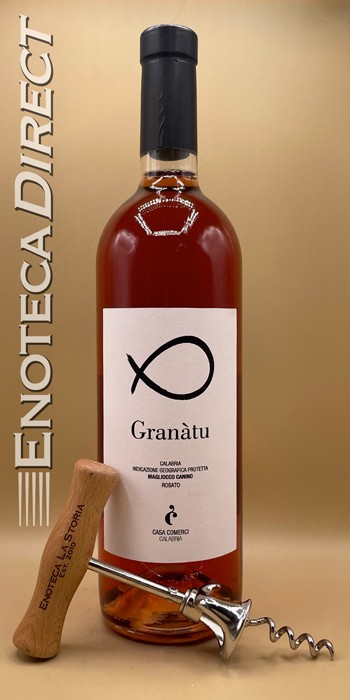 2021 Casa Comerci Rosato 'Granàtu' Magliocco Canino
Calabria, Italy
100% Magliocco Canino from 28 year old vines with a short maceration on the skins for about half an hour. Spontaneous fermentation with indigenous yeasts in steel and bottle aging. Total sulphur is 85 mg/l. Only 900 bottles were made!
"Granàtu" is the pomegranate in Calabrian dialect. For the chromatic trait that identifies the particularity of this wine. A repentant red with delicate but persistent fruity aromas, subtly spiced. I love drinking this wine accompanying it with fish, white meats and fresh dairy products, it lends itself well from appetizers to main courses, also fantastic with fish soups and in its versatility it is also splendid with pizza. Would you ever have thought that? " ~Rosa Comerci
Magliocco Canino is a rare and native grape of the provinces of Cosenza and Catanzaro that has risked extinction. Today it represents about 4% of the Calabrian production with just over 500 hectares of vineyards. It was once used as a blending grape to give body to wines given its characteristic of being a grape with a high tannic content thanks to a medium-thick skin that ripens late. This type of grape has also been found in some areas of the Marche and Sicily. In Calabria it is mainly cultivated on the Tyrrhenian side and there are few wineries that have decided to focus on this special and eclectic vine with excellent aging potential, making it pure.