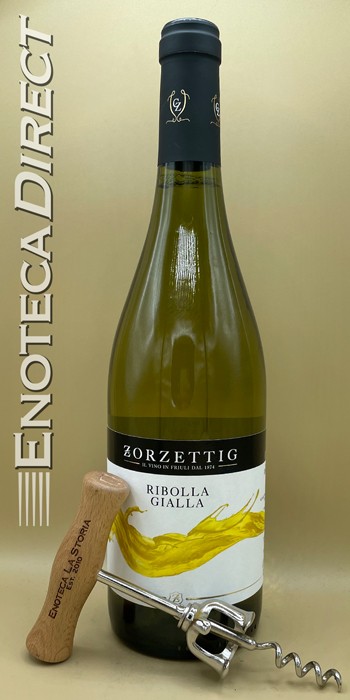 2020 Zorzettig Ribolla Gialla
Friuli Colli Orientali, Italy
100% Ribolla Gialla. Vines range in age from 20 to 30 years old. Grapes are hand-harvested. Maceration of the crushed grapes takes place at a temperature of 8°C for 16-18 hours followed by a soft crushing and fermentation at a controlled temperature of 18°C. Racking and fining on the lees until the wine is bottled.
Delicate floral aromas and flavors of white peach, green apple and pear with a whisper of honey adding complexity. Bright, juicy and very precise, with lemony juicy acidity really carrying the bright crisp flavors on the long vibrant mineral-etched finish. Pair this wine as you would a good Pinot Grigio – with its bright acidity and subtle pear and apple flavors. Made to go with seafood, it will pair beautifully with sea scallops and jumbo shrimp pan-seared in butter and olive oil over linguine.
The estate was founded over a century ago when the Zorzettig family acquired the Tenuta Casali Pasch estate recognizing it as the ideal location to grow Tocai Friulano – now called Friulano, thus initiating the family's expansion towards the most suitable areas for the protection and enhancement of the indigenous varieties. Indeed, for over thirty years now, the family has devoted their work and research to these native grapes. Following the philosophy of enhancing the terroir of the Colli Orientali del Friuli, the family purchased further plots of land in Propotto, very suitable for native red grapes, and Ipplis, ideal for white grapes. In particular, with the acquisition of the former Valentinuzzi estate in Ipplis, the Zorzettig family can now boast some of the most ancient vines in the whole of Friuli Venezia Giulia: eighty-year-old plants of Malvasia, that grow in specially managed vineyard known as Parco della Vite. The passion and energy of Giuseppe and Antonietta, wife and mother as well as tireless cornerstone of the company, were transmitted to the sons Roberto, Annalisa and Alessandro, along with the desire to continue along the path of love for the land.