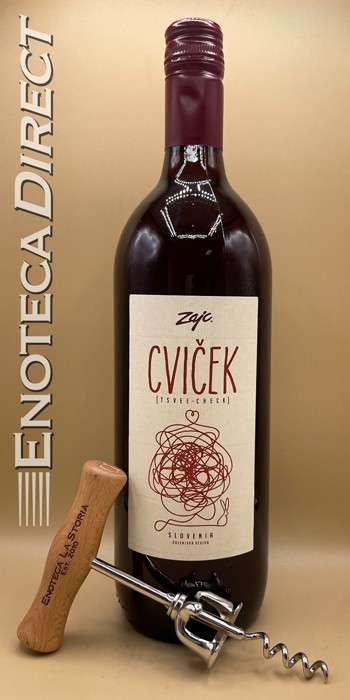 2020 Zajc Cviček 1 liter
Dolenjska, Slovenia
Cvicek is in many regards considered to be the "national wine" of Slovenia, as it has tremendous historical significance. It is known as the "people's" wine due to its easy consumption, low alcohol, and food-friendly pairings. A blend of 50% Blauer Koelner, 20% Blaufränkisch, 15% Kraljevina, and 15% Welschriesling. After 2-4 days of skin maceration under controlled temperature, the wine is put into stainless steel tanks to ferment. Blended, and bottled as soon as the wine is ready and brought to the market quickly, usually in January following harvest. Only 10.0% acohol.
Tasting Notes
Playful, with berry and cherry aromas and taste, the wine is certainly light-bodied, young, fresh, and definitely easy to drink – which is why a one liter bottle is the way to go! A pair-with-anything wine! You can really get creative with Cvicek, but we especially recommend pairing the wine with grilled meats, sausages cured/smoked meats, various stews and goulashes, and lentil. The wine is meant to be served slightly chilled.
About Zajc
The Zajc story dates back to 1858 when the family acquired their oldest vineyard in Cirnik above the castle of Mokrice – there is evidence of land registration. It is known that the family owned an even older possession in Gadno until the end of the 19th century but no written evidence has been found about it. In 1970 Ivana Curhalek and Božidar Zajc got married and with their marriage family Zajc took over the activity of both winemaking families. When Slovenia became economically independent in 1990, the activity was taken over by the family company, which invested in renovation and expansion of the vineyards, outbuildings and modern equipment immediately. The cellar is now led by sons Božidar junior and Marko with great coworkers. Parents Ivana and Božidar senior still make important contributions to key projects and guidelines, and a new generation is already on the horizon.