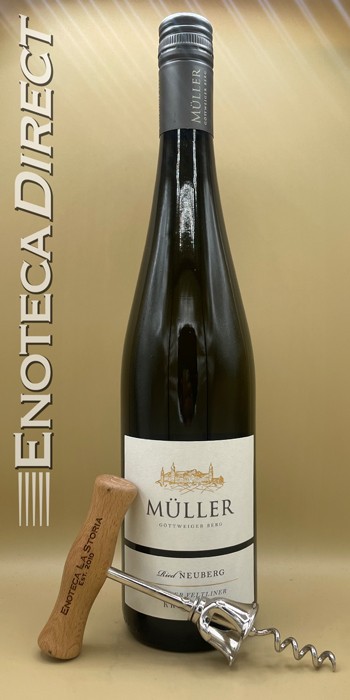 2020 Weingut Müller Grüner Veltliner Ried Neuberg
Kremstal, Austria
The grapes originate from the single, sustainably managed vineyard Neuberg in the south of the Kremstal. Here the character of Grüner Veltliner has the potential to develop due to the high temperature fluctuations between night and day. This unique climate ensures the development of the very characteristic flavor of Grüner Veltliner. Not only the climate but also the closeness to the Danube and the hearty clay soil contribute to the refined taste. Temperature-controlled fermentation took place in stainless steel tanks. In December, the wine was racked and allowed to develop on the fine lees before being bottled.
Tasting Notes
Light green-yellow in the glass, opens up in the nose with a wide range of different fruit aromas including grapefruit but also tones of garden herbs and minerals. The palate is marked by delicate nuances of apples and pears, with fresh acidity. Pair with any sort of green salad or vegetable dish.
About Weingut Müller
In 1936, Leopold Müller, grandfather of Leopold and Stefan Müller who now manage the estate, acquired a small vineyard in Krustetten and made the first Müller wine. Nowadays, the 3rd and 4th generation of Müllers is managing the estate, which now encompasses a proud 120 hectares of prime vineyards. Leopold and Stefan, together with the entire Müller family, relentlessly work to ensure the best possible quality wines. The winery itself is built 50% into the hillside and extends over 3 floors, allowing them to use the natural temperature regulation of the earth and gravity to process grapes. They also use their own spring water for all operations in the wine cellar, where they pay special attention to gentle winemaking methods.
Wine Specs
Varietal
Grüner Veltliner