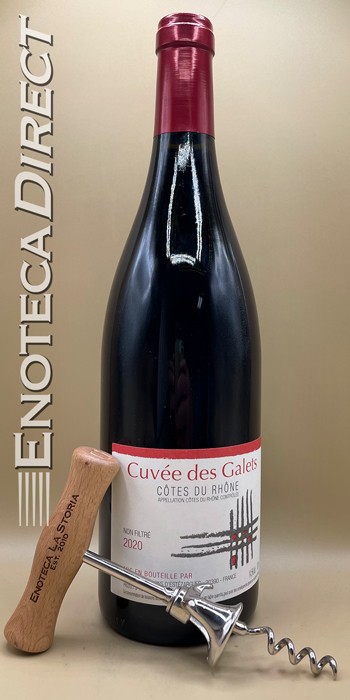 2020 Vignerons d'Estézargues "Cuvée des Galets" Cotes Du Rhône
Rhône, France
Grenache (50%), Syrah (25%), Carignan (25%) As far as we know, Vignerons d'Estézargues is the only co-op in France (and quite possibly the world) to make natural wines! Organically-farmed vines planted on alluvial marls and clay with 'galets' (rounded pebbles typical of the area, think Châteauneuf), with South-facing exposure. Fruit for this cuvée comes from multiple co-op members. They use all native yeasts, don't filter or fine, and don't add anything but a fractional amount of SO2 at bottling. Aged in concrete.
Clear ruby-red in the glass. Aromas of raspberries and blueberries with a hint of green herbs. On the palate, light and mildly spicy with a medium finish. Drink with grilled artichokes, pork chops with braised onions or lamb kebabs.
Silky, juicy, and beautifully balanced -- this is roast chicken wine par excellence. For just 15 bucks? You can spend up on your herbs de Provence!
Les Vignerons d'Estezargues is a southern French cooperative based in the village of Villeneuve-les-Avignon in the Gard region of the Rhone Valley. It was founded in 1965 and consists of 10 independent vignerons who farm a total of 420 hectares and who currently employ the services of the youthful but experienced Denis Deschamps to oversee the wine making. This excellent coop is set apart by the fact that only 'natural' wine making procedures are adopted - no external yeasts, no fining, no enzymes, no sulphur and so on - all of which contribute to very precise and structured wines.
Les Vignerons d'Estézargues is a co-operative cellar in the small town of Estézargues, very close to Avignon and the Pont du Gard in the southern Rhone valley. Producing wine since 1965, they now take a fundamentally different approach; starting in 1995 the ten different growers in this co-op began to vinify their wine separately and make single cuvées from their best plots. On the heels of the single cuvée evolution Les Vignerons d'Estézargues began to also practice natural winemaking. Possibly one of the only co-ops in the world to do so, Les Vignerons d'Estézargues uses no external yeasts, no filtering, no fining and no enzymes are employed during the winemaking process. All of the fruit for these wines is organic, the majority of it certified as such. Today Denis Deschamps oversees the whole project.
'Cuvee des Galets' is a cheerful blend of Grenache, Cinsault and Syrah and is unoaked.