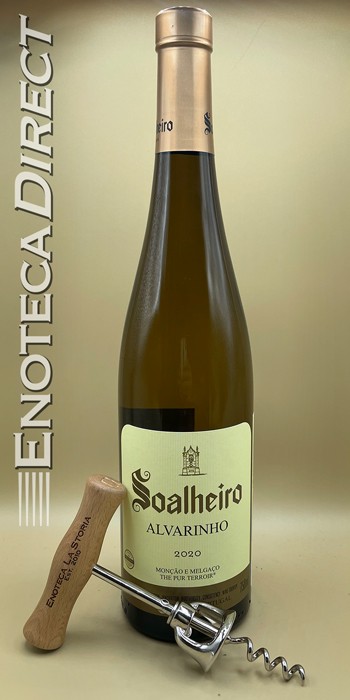 2020 Soalhiero Alvarinho
Vinho Verde, Portugal
This is a BENCHMARK producer! Soalheiro has been at the fore of establishing this subregion's reputation, and with that reinventing Vinho Verde. It is in the most northerly part of Portugal, in the subregion of Monçao e Melgaço, along the Minho River on the opposite bank from the Condado do Tea subregion of Rías Baixas, that single-varietal Alvarinho (Albariño) Vinho Verde has taken root. Luis Cerdeira of Quinta do Soalheiro. is considered by many to be the most forward-thinking visionary in the Vinho Verde region amongst a cadre of ambitious and talented vigneron. He takes risks with his wines that others do not. 100% Alvarinho (Albariño); Fermented and aged in temperature-controlled stainless steel tanks.
92 points, Jancis Robinson. "Pale gold wine is giving off a delightful combination of yellow apples, ripe lemon and tangerine, with a bay-leaf herbal lift and stony mineral notes. Crisp, crunchy acidity is nicely balanced with oily lees richness. Linear and pure, with a long floral-scented finish."
92 points, Wine Advocate. "The 2020 Alvarinho, the so-called unoaked "classic," as it is colloquially known, is dry (2.5 grams of residual sugar and seven grams of total acidity) and comes in at 12.7% alcohol. As much as I liked the Granit this report, this is the winner to me in this price range. Firmer and more concentrated on the finish, it seems to evoke the essence of Alvarinho, while always showing off fine acidity. At a rather nice price (even though it has ticked up a bit), at least compared to upper-level Vinhos Verdes these days, this is still a bargain. It's a solid wine that combines elegance, persistence and aging ability. It has enough stuffing to pair with food, but this is so fresh and pure, I mostly love to drink it on its own. Sit on the porch and knock this back on a sultry summer evening."