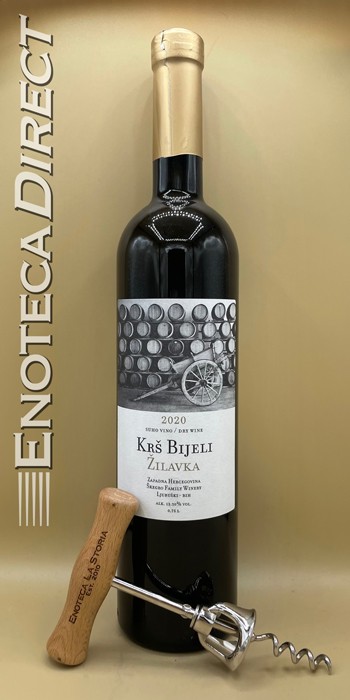 2020 Skegro Žilavka 'Krš Bijeli'
Bosnia & Herzegovina
The Story
Raise your hand if you've had a wine from Bosnia and Herzegovina before?? It's not often that you get a chance to try them, for a multitude of reasons. The country has had a long history of tragedy, including assassinations and genocides. It's not a country that many Westerners travel to, and knowledge of the local culture, food and wine scene is not widely known. Although it has a long tradition of grape growing and winemaking, the industry is not dominated by corporations or foreign business interests. Most estimate that there are around 60 commercial producers in the whole country, and maybe 20-30 with enough production to potentially export. The vast majority of 11,000+ growers have less than a couple of hectares and everything is sold locally or for home consumption. We've featured a few wines from Skegro in the shop here; most notably a spectacular orange wine and a red wine made from another native grape, Blatina. This is a fun opportunity to try a totally new wine, from a region and a grape that you likely don't know. As for the wine itself, I love wines of this style: with a rich, slightly viscous mouthfeel that reminds me a bit of Vermentino and a hint of nuttiness that reminds me of Verdicchio di Matelia, but an exciting fruit profile and freshness that is all its own. Goes great with salad courses as a replacement for Gruner Veltliner as well, which is a valuable asset. This also meshes nicely with the World Cup, as the Skegro family (and all of Bosnia and Herzegovina) are soccer fanatics. Founder Bariša was coached by the late Josip Katalinski Škija who played professionally at home and abroad and gained hero status for scoring the pivotal goal that got the Yugoslav national team into the 1974 FIFA World Cup. Bariša's father Mirko also played for NK Ljubuški (local club) and is now the assembly chair for the team. There's immense pride in the quality of players that come from this little village that have gone on to make a name for themselves in the greater world. A point of pride that ties this all together is that Mario Stanić comes to the cellar to buy the skin contact Žilavka. Stanić had a prolific career as a professional soccer player at home and abroad. He scored Croatia's first-ever World Cup goal!
Winery Background/Info
"Our wines are a reflection of the dedicated work and energy we invest. A reflection of Herzegovina and its natural beauties. Together with wines we learn and grow."— Bariša Škegro
The Skegro family vineyards are mostly consisted of vines planted in 2005 in the small village of Radišići, in the southwestern part of Bosnia and Herzegovina. They have 2 hectares of south facing and terraced vineyards, which were cut into the hillside, rich with calcareous marl, sandstone and flint. Mostar, being within an hour from the Croatian coastline, offer a very similar climate: Mediterranean influence with extreme hot summers and mild winters.
The family's estate is also filled with fruit trees such as figs, citrus, and pomegranates as well as basic produce and some damn good olive oil from their extensive olive trees. Olive trees are similarly scattered amongst the vineyards to offer diversity and support the erosion of the rocky soils.
As for the farming, vines are trellised, cover crops are natural although sometimes they will plant oats, granola and or barley in the winter. Manure or organic fertilizer is applied when needed along with copper and sulfur. They do not use herbicides or pesticides. As the vines have become more established after years of drought conditions, they are moving towards organic certification. At only 2 hectares, everything is done by hand. Škegro is one of very few wineries in all of Herzegovina that sells the majority of its wines abroad.
Region – Mostar, Herzegovina
Bosnia and Herzegovina is a country in the east of southern Europe formed after the collapse of Yugoslavia during the 1990s. It does not produce a significant quantity of wine, although it does have a few thousand acres of productive vineyards.
The population of Bosnia-Herzegovina is close to 3.5 million with Sarajevo its capital and largest city located inland, near the middle of the country, slightly to the south. Bosnia-Herzegovina wine production is mostly centered on two main hubs in Čitluk and Međugorje which are both situated so deep in the southwest and near the border of Croatia, that if you take a wrong turn, you'll likely to end up in Dalmatia.
Mostar, the historical capital of Herzegovina, is situated on the Neretva River and is the fifth-largest city in the country. Mostar was named after the bridge keepers (mostari) who in the medieval times guarded the Stari Most (Old Bridge) over the Neretva.
Zilavka is the most planted grape varietal, followed by Blatina, Vranac, Rakia and Plavac Mali.
Varietal – Zilavka
Žilavka is a light-skinned grape variety planted in the southern part of Bosnia-Herzegovina and Macedonia. It is noted for its high levels of natural acidity and potential alcohol, traits that are particularly desirable for the production of brandies and other grape-derived spirits. Žilavka grapes also offer Bosnian brandy producers a rich, nutty flavor, which is present in the young wines and becomes more pronounced with age.
It is by far the most common variety in this region, grown mainly around city of Mostar but has also spread to Montenegro, Kosovo and reached Northern Macedonia.
Wine
90% Žilavka , 5% Bena, and 5% other unnamed native varietals including Krkosija. Sourced from traditionally terraced vineyards with south exposure at around 150 meters altitude. The soil is deep calcareous marl with layers of sandstone and flint. Farming is all organic, utilizing natural cover crops, utilizing manure or organic fertilizer when needed along with copper and sulfur. They do not use herbicides or pesticides. As the vines continue to mature, they are on their way to organic certification. All harvesting is done manually.
Depending on ripeness and vineyard site, the grapes are either direct berry pressed or whole-cluster pressed to a cold soak (maceration) overnight. All fermentations occur in stainless steel and remain on fine lees for 6-8 months with occasional battonage. Only native yeasts are used and the only addition is SO2 if at all. Malo, settling and aging are typically in 225L neutral oak and stainless steel. All wines are bottled unfiltered.
Tasting Notes
Winery Tasting Notes:
"This wine is clean, fresh, and pure example of the Žilavka grape. Very bright with lots of sunshine, honeydew, stone fruit, salted grapefruit, and balancing acidity with touches of chalky minerality and a subtle bitter almond on the finish."
Ryan's Tasting Notes
"A marvelously rich, tangy white wine with clean acidity that balances it all beautifully. Oily and rich on the palate, but still feels super fresh and not heavy at all because of the acidity. It's fairly floral on the nose, with flavors of pithy citrus, ripe stone fruit and orchard fruit on the palate, finishing with a really nice nutty note."
Reviews/Ratings/Accolades
Unsurprisingly, there are no critical reviews of this wine.
Food Pairing
Great with fresh goat and sheep cheeses (Requeijão), raw and marinated fish and shellfish, grilled poultry, smoked quail, Mediterranean cuisine and salads with fresh vinaigrettes with yuzu or lemon from the garden.
Optimal Drinking Window:
Drink now or over the next three years.