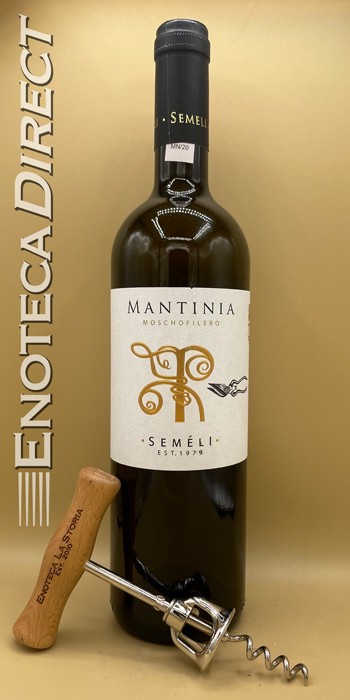 2020 Seméli Moschofilero 'Mantinia'
Peloponnesos, Greece
100% Moschofilero. Moschofilero is a pink-skinned, aromatic grape variety grown mainly on Greece's Peloponnese peninsula. Here, it is the main constituent in fresh, light Mantinia wines, whose aromatic character and floral, grapey flavors often bear comparisons to wines made from Traminer and Muscat.
Vineyards located around 1800 feet. Grapes are handpicked, they are then chilled to 7-8oC in cold storage, pressed by pneumatic press and followed by strict settling and vinified according to the classic white wine vinification. Fermentation in stainless steel vats at controlled temperatures of 16-17oC.
Bright, yellow-green color. Elegant floral aromas with lemon, citrus and rose petals, typical of the Moschofilero variety. Rich and fruity on the palate, with a long, aromatic aftertaste.
This aromatic, easy-drinking white will drink great on its own, as an aperitif and with light appetizers and entrees. Will pair deliciously with kotopoulo souvlaki (grilled chicken on skewers) and a Greek salad. This wine is also delightful with grilled fresh fish and seafood, such as grilled calamari or fried seafood (particularly with lemon sauce), such as grilled calamari or fried seafood, as well as most Asian dishes.
Founded in 1979, Semeli is a leading Greek winery and one of the country's most significant wine-related developments. With deep roots in time-honored traditions and their eyes on the future, they produce wines of exceptional quality offering consumers best value for money.
The Semeli Estate winery is located at a high altitude, amidst the low yielding vineyards of the hilly Koutsi region, one of the most celebrated "crus" of legendary Nemea in the Peloponnese. In this unique grape-growing microclimate crop levels are low and fruit and natural acids in positive balance.
The sunny Mediterranean climate and the extraordinary terroir, combined with the expert craftsmanship of our winemakers and the successful blending of indigenous and international varieties, result in wines of distinct character that have earned the respect of experts and captured the hearts of wine lovers worldwide.
Built in 2003, the Semeli winery is a modern, stylishly designed facility set amidst vineyards at an altitude of 660m with a long-established reputation of producing great wines.
The state-of-the-art winery reflects their holistic approach to modern winemaking, blending traditional values with non-mechanical production methods and the latest advances in viticulture. Extending over an area of 45,000sq.ft., the Semeli winery uses a gravity-fed process that takes full advantage of the sloping terrain and can produce up to 2 million bottles annually. From pressing to barreling and then on to bottling, the entire process relies on the force of gravity instead of pumps. Moreover, by reducing grape temperature to 7-8˚C prior to crushing and then carefully controlling both temperature and humidity throughout the facility, they are able to minimize oxidation and promote fermentation under ideal conditions.
All Semeli wines are made exclusively from their own grapes and those from neighboring vineyards under long-term partnership agreements. This allows for continuous quality control throughout the growing season – an absolute must for consistently producing great wines.