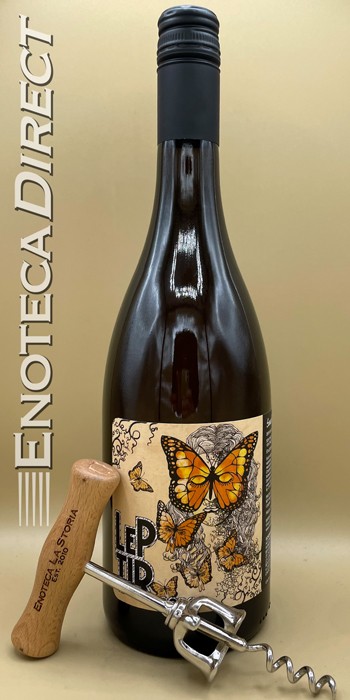 2020 Sanctum 'Leptir' Orange Wine
Štajerska, Slovenia
50% Pinot Blanc, 40% Chardonnay, 10% Pinot Gris. No irrigation in the vineyards, spraying as necessary depending upon climate conditions. Most years only sulfites, sometime copper, and rarely other substances allowed under Slovenian integrated farming regulations. Embracing the minimal intervention approach in the cellar, hand-harvested grapes were processed separately. Pinot Blanc and Pinot Gris were destemmed into small open top fermenters, spontaneously fermented on the skins for 14-21 days. Both wines were matured in 300-500 liter used Slovenian oak barrels. Chardonnay was whole bunch pressed and spontaneously fermented in Slovenian and French oak barrels. After 10 months of barrel aging the blend was created in stainless steel tanks and bottled unfiltered. 6,000 bottles were made.
Tasting Notes
This youthful orange wine opens with spicy aromas of dry wildflowers, apricots, pears and white tea with honey. The palate is bright, and the skin tannins are not aggressive. Earthy mid-palate leads to a long savory finish. Pair this wine with creamy soups, root vegetables, polenta, veal, pork, roasted chicken or turkey, mushroom or white wine sauce pasta and risotto. Serve slightly chilled.
About Sanctum
In the mid-12th century French Carthusian monks settled in this northeast region of Slovenia and planted it with Pinot Noir and Chardonnay vines. The Podkubovšek family, starting with Vlado and his son, Marko, has always cherished and been proud of this local heritage, hence the fact that all of their wines are made in a traditional style, where the vines and the microclimate speak for themselves. All of the grapes are strictly hand-picked on steep marl-rich slopes of up to 45°, and vinified with minimal intervention in the winemaking process.
The rock carving on the front label originates from a small 18th century tower located in the middle of the Grandchamp vineyard. It represents a pioneer on the Route de Saint Jacques de Compostelle, a pilgrimage route of thousands to the Cathedral of Santiago de Compostela in Galicia, Spain where the remains of apostle Saint James are said to be buried.