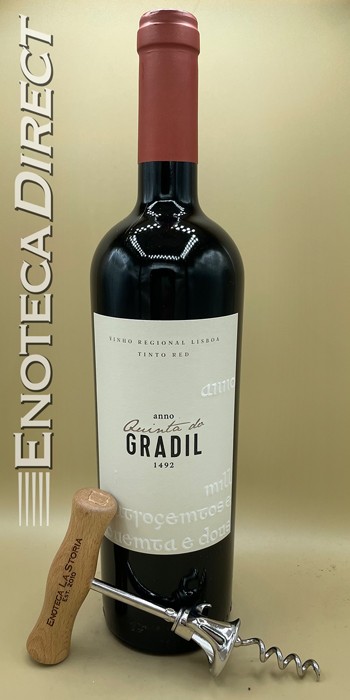 2020 Quinto do Gradil Tinto
Lisboa, Portugal
50% Tannat and 50% Touriga Nacional. Fermented in stainless steel vats, 70% of the lot is then aged in French oak barrels.
Great aromatic intensity. In the mouth it is vigorous and unique by the combination of grape varieties. Touriga Nacional tames Tannat's great tannin character. The result is a balanced and very versatile wine.
Full bodied and brimming with black fruits, this wine can stand up to some quite bold and strong foods. The tannin is softened by aging in oak but it keeps that lovely fruit ripeness so try this alongside a burger and fries, sausage, casseroles, BBQ chicken, lasagna or pizza and roast lamb. For vegetarian options, think lentils, roasted root vegetables, eggplant and mushroom dishes.
Quinta do Gradil is located not far from the foothills of the western slope of the Serra de Montejunto, between Vilar and Martim Joanes. Considered one of the oldest, if not the oldest, estate of the county of Cadaval, Quinta do Gradil has a strong wine tradition that has been going on for centuries. The property consists of a noble chapel adorned by an artistically decorated turret, a housing estate, a wine cellar and an agricultural area of