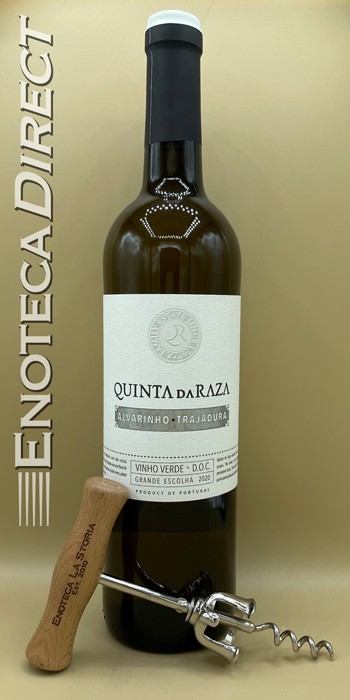 2021 Quinta da Raza Alvarinho/Trajadura
Vinho Verde, Portugal
If you think about Vinho Verde at all, you probably think of light-bodied, tart and tangy, whites with a prickle of gas to enjoy in mid-summer heat with cold shrimp or a salad. But this blend of Portugal's Vinho Verde region's two best grapes – Alvarinho and Trajadura is a bit more and better than that. It's a wine that both exemplifies and transcends its home and style. And, it's a Vinho Verde for drinking all year 'round. This was fermented and rested in stainless, to preserve the fragrant, pure fruit. 60% Alvarinho, 40% Trajadura
Tasting Notes
60% Alvarinho, 40% Trajadura You can feel the interior warmth with the easy ripeness of these grapes.
About Quinta da Raza
Quinta da Raza has around 50 hectares of vineyards, located in Lugar de Peneireiros in the Basto Sub-region (DOC), in the heart of the Vinho Verde Demarcated Region. With a history that goes back more than four centuries, there are many memories that have crossed generations of the Teixeira Coelho family, who continue to have the same passion and dedication.
With a favoured location within the Minho Region, it has a microclimate influenced by the river Tâmega and the Serra do Marão, which intersect the Atlantic winds. Raza's vineyards grow here with the care and conditions that this unique region so generously offers. With magnificent sun exposure, an altitude of 250 metres and soils of granite origin with clay-schist areas, uncommon in the Vinho Verde Region, the Quinta da Raza vineyard has a unique terroir, with the vineyard noted for the quality of the grapes produced here, ranging from Azal, Arinto, Avesso, Vinhão and Trajadura to Alvarinho.