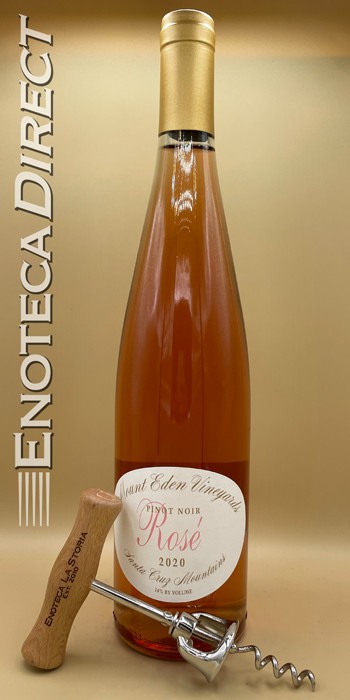 2020 Mount Eden Rosé of Pinot Noir
Santa Cruz Mountains, California
ENOTECA DIRECT EXCLUSIVE!
We feel so lucky that our friends at Mount Eden reached out to us with a few cases of their rare and stellar 2020 Rosé of Pinot Noir. This is usually a winery exclusive wine, available only to wine club members (I know, as I'm a wine club member and purchased this for myself on its initial release!).
Legendary winemaker Jeffrey Patterson, now in his 40th vintage at Mount Eden, doesn't make a rosé every year. In fact, they've only been made a handful of times over the last four decades. Jeffrey told us that the 2020 vintage is his favorite yet.
The 2020 Rosé is produced from four separate lots of Pinot Noir from the Estate and Domaine Eden vineyard sites. The wine was fermented for four months in stainless steel, transferred to neutral oak, and aged an additional four months before being bottled in May 2021. Only 84 cases were made!
Dusty pink in tone, this Rosé is expressive with fresh aromas of honeysuckle, underripe strawberries and Mount Eden's trademark rocky minerality. A touch of anise also emerges from the glass. Just slightly creamy in texture from the neutral oak aging, but still very crisp with delightful acidity, the flavors run the gamut from wild strawberry to cassis. Medium to medium full bodied but very dry- this almost reminds me of the power and weight of a Tavel. The last bottle I opened was better the second day than the first, which bodes well for the longevity of this wine. ~Ryan Smith, Certified Sommelier, Enoteca Direct