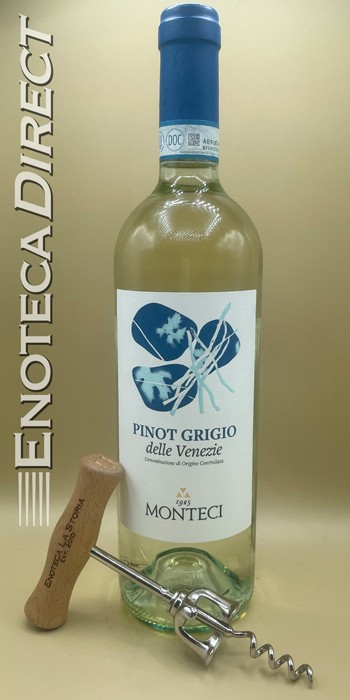 2021 Monteci Pinot Grigio delle Venezie
Veneto, Italy
100% organic Pinot Grigio. This is the perfect expression of a territory particularly suited for cultivating this distinct vine. The grapes are harvested during the second half of August during the night to better preserve both freshness and acidity. After soft pressing, the grapes ferment in stainless steel tanks at a controlled temperature between 12° - 13° C. Then the wine, via the battonage technique which keeps the noble lees in suspension, ages for 4 months before being bottled. It is characterized by the perfect balance between flavour, sugar content and acidity.
Tasting Notes
Its colour is bright straw-yellow, with soft green reflections and its scent radiates inebriating floral aromas, such as chamomile and white pulp fruit, such as pear. To the palate it is soft, elegant and delicate with a fruity finish and a pleasant freshness.
Excellent as an aperitif, and ideal with seafood salads or pasta and rice dishes based on fish and shellfish. Also perfect with white meats, boiled or grilled fish and soufflés.
About Monteci Winery
Founded in 1925, Monteci Winery is now run by the fifth generation of the Righetti family. They own 200 hectares of vines, with 70 being in prime Valpolicella Classico territory and 45 in the Lugana area, all farmed organically and sustainably. Monteci completely embraces the ideals of environmental sustainability, not only in the vineyards but also in the winery: the drying rooms and the winery are powered by a sustainable photovoltaic system, and a full wastewater system treats all of their water use. Their wines are also certified vegan.