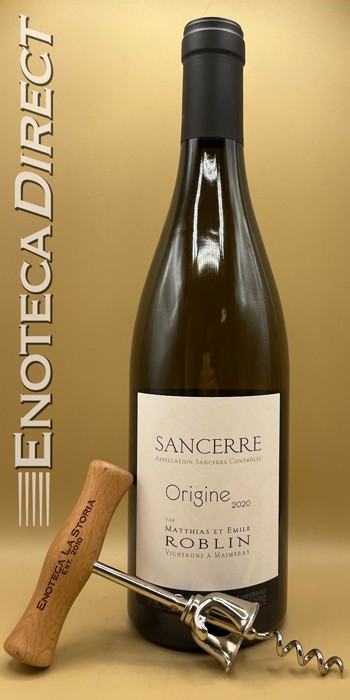 2021 Matthias & Emile Roblin Sancerre "Origine"
Loire Valley, France
Matthias and Emile's vines grow on the hillsides of Maimbray and Sury-en-Vaux in the northern sector of Sancerre. This zone is known for its terres blanches, a.k.a., Kimmeridgian Marls—white soils made of clay and marl and stones on top of Kimmeridgian limestone, and make for pointed, powerful wines that need a couple of years in bottle to show best (and indeed have the potential to age surprisingly well, but almost never are permitted to do so). The brothers have 16 hectares (nearly 40 acres) in Sauvignon Blanc and 3 (just over seven acres) in Pinot Noir.
For years now the brothers have been plowing profits back into the winery to update equipment and to create a winery in which their wine is now moved by gravity. They've also been steadily tweaking their methods of élevage, investing in wood uprights for fermentations and aging, along with 600-liter demi-muids, and extending the aging process. In the vineyards, they've been progressively moving to organic and biodynamic viticulture (burying horns, using dynamized sprays, and following the lunar cycle) to the point where in 2019 they went entirely organic. But they intentionally avoid certification and reserve the right to use synthetic fungicides in particularly wet years like 2021 with intense mildew pressure.
This is classic stuff: crisp and stony with tart green apple and grapefruit accented by notes of lime zest and sea salt and just a touch of pithy bite. A very light fresh herb note comes up along with some flinty minerality, adding still more complexity to this juicy, fresh, and very easy to drink Sancerre.