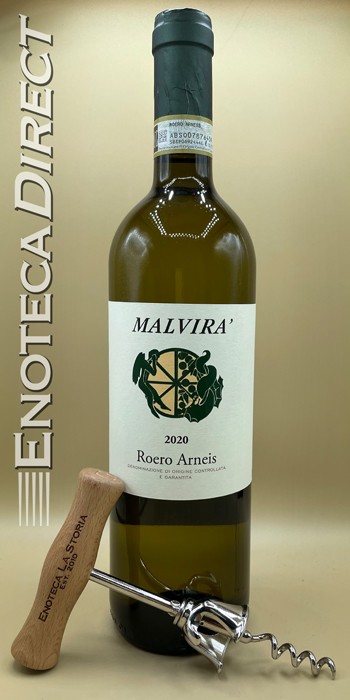 2020 Malvirá Arneis
Piedmont, Italy
#44 Top 100 Best Buys of 2021- Wine Enthusiast
Classic Piedmontese white! Arneis ("ahr-NAYS") is one of the great whites of Italy - aromatic, 100% Arneis cultivated organically. Sourced from four vineyards. Grown in calcareous clay and sandy soils at 300 meters above sea level. Fermentation takes place over 10 days in temperature-controlled tank, followed by 4-8 months in stainless steel before bottling.
91 points & Buy Now, Wine Enthusiast. "Made with organically grown grapes, this has delicate, enticing aromas reminiscent of ripe white stone fruit, crushed mint, pineapple and freshly made bread dough. On the linear, savory palate, notes of bitter almond and ginger accent a core of Bartlett pear and lemon drop before a tangy mineral close."

Tasting Notes: Lifted and fresh on the nose with notes of white blossoms and snappy fruits. On the palate, the wine gives way to stone fruits and hints of melon before finishing with a zip of refreshing acidity. The finish is clean but long and showcases this classic vintage perfectly.

Winery Notes: Giuseppe Damonte established Malvirà in 1950, a time when the Roero's potential was yet unrealized. Giuseppe had a great passion for farming and wine, a passion that he passed on to his two sons, Roberto and Massimo. In 1974, Roberto and Massimo took the reins and began slowly turning the family's bulk wine business into an estate focusing on quality wine production. Over the course of the next 30+ years, the brothers Damonte worked tirelessly to improve the quality of wines at Malvirà. Today their entire production comes from six vineyards over about 40 HA, all of which is organically farmed.