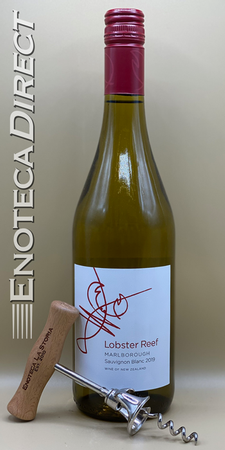 2020 Lobster Reef Sauvignon Blanc
Marlborough, New Zealand
This classic New Zealand Sauvignon Blanc hails from Lobster Reef's 200 acre vineyard located in the Blind River Valley of Marlborough, New Zealand. Situated along the rocky coastline of the Marlborough, the Sauvignon Blanc grapes are harvested in a dry environment with modest rainfall and in a tight soil structure, resulting in balanced, low vine vigor. 2020 was an exceptional vintage in Marlborough, producing great fruit all through the lockdown. A long dry season ended slightly cooler, resulting in a slightly longer hang time and maximum flavor development.
Tasting Notes
This is a clean, crisp and instantly recognizable Marlborough Sauvignon Blanc. Medium full bodied, balanced and refreshing, it bounces from the glass with scents and flavors of pineapple, lime juice and grapefruit, with undercurrents of tomato leaf and flinty acidity.
About Lobster Reef
After growing grapes in Marlborough for a decade, the Brown family decided to start their own winery and purchased a block of land in Blind River sub-region of Marlborough. The home vineyard consists of 200 acres of vines planted in 2002. All fruit is grown sustainably and all wines are produced in a carbon neutral fashion. Lobster Reef was named for the brightly colored Rock Lobsters found along the famous Marlborough coastline. Their unique and quirky nature reflects what Lobster Reef wines are all about: immensely appealing aromatics, bright, fresh and intensely flavored.