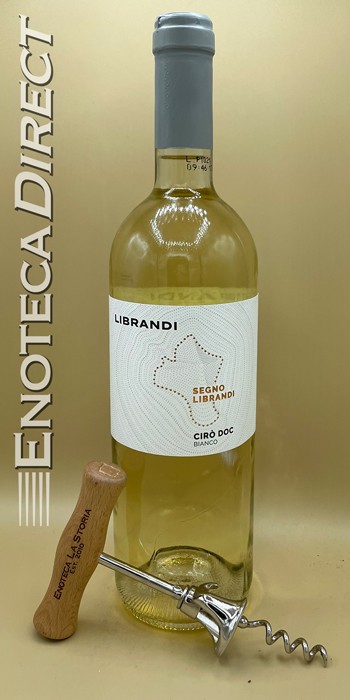 2020 Librandi Cirò Bianco 'Segno Librandi'
Calabria, Italy
100% Greco Bianco. Fermented and then aged 4 months in stainless steel tanks. Aged 1 month in bottle prior to release.
Brilliant lemon-green in color, aromas of peaches and citrus fruits complement undertones of herbs and flowers. On the palate, zesty acidity and a long finish showcase this wine's subtle hints of toasted almonds and macadamia nuts. A lovely, fresh and juicy wine. Drink it on its own, as an aperitif, with most salads and with simple fish, poultry and veggie dishes. The winery suggests: Pair this wine with ceviche, gremolata sauces, grilled swordfish, or Sicilian involtini.
The Librandi winery is a modern enterprise founded in 1950 by Antonio and Nicodemo Librandi. Nowadays, the winery is run by Nicodemo, his two sons Paolo and Raffaele, his nephew Francesco and his niece Teresa. To this day, they remain faithful to the principles that inspired their forefathers: a great wine requires love and dedication to the land and its history. Librandi is located in Cirò Marina, a small town in the southern Italian region of Calabria (Italy's boot tip), on the splendid Ionian coastline. The soil in this area is naturally suited for grape growing, and the geographic position, located between the sea and the Sila Mountains, guarantees an excellent balance between day and nighttime temperatures. All Librandi wines and olive oils are made exclusively from estate-grown grapes and olives. The Librandi family owns a total of 890 acres, 573 of which are vineyards, 247 are olive groves, and the remainding acres are dedicated to the forest. The vineyards are planted with both local varietals (Gaglioppo, Magliocco and Mantonico) and international varietals. Librandi also runs an experimental vineyard with ancient local varietals.