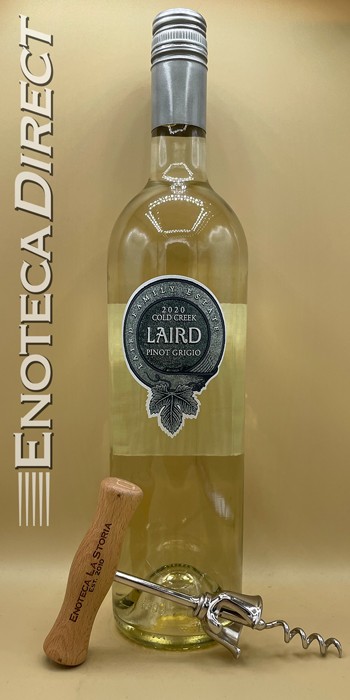 2020 Laird Cold Creek Ranch Pinot Grigio
Carneros, California
100% single vineyard, estate grown Pinot Grigio from the Cold Creek Ranch Vineyard. All stainless steel fermentation and aging.
Tasting Notes
With its crystal clear color, this wine looks like a diamond in the glass. The nose opens up with aromas of citrus blossom, Bosc pear and chamomile. The balanced bright acidity wakes up your palate with flavors of candied ginger, honeydew melon and lemongrass. Once you take a sip, it's hard to not think of summertime.
About Laird Family
From his roots as a third-generation farmer from Virginia tobacco country, Ken Laird has earned a unique distinction. He and his family are now the largest private landowners of Napa Valley with more than 2,000 acres to their name. Their first acquisition in 1970 was sparked by a field walk with none other than Robert Mondavi, and the Lairds entered the vineyard business in partnership with the venerable Oakville winery. They grew slowly (and took more than a few chances on unproven sub-regions) and now boast land holdings that have provided fruit to everyone from Mondavi to Far Niente to Joseph Phelps. With Paul Hobbs calling the shots in the cellar (Robert Parker has called him "one of my favorite winemakers"), the Lairds are able to select their favorite sites from their substantial grape resources for their own stellar wines. With their state-of-the-art production facility (utilized by more than 60 boutique producers), it's truly a can't-miss combination of exceptional fruit and winemaking prowess.