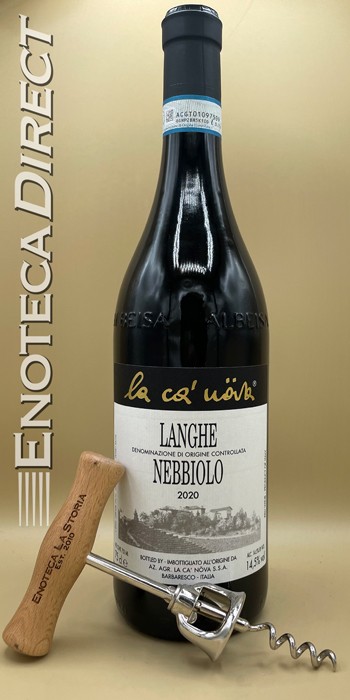 2020 La Ca' Növa Langhe Nebbiolo DOC
Piedmont, Italy
"Oh man. We finally have the new vintage of a wine we've been anxiously awaiting for what seems like forever. Marco Rocca at La Ca' Növa is one of our absolute favorite winemakers- every wine he makes is phenomenal and a wonderful value. This may be one of the best values in Nebbiolo out there- it's 100% organically farmed estate-grown Nebbiolo from the 5th generation Rocca family farm, which is situated on one of the best plots of land in Barbaresco. This is declassified Barbaresco- the only difference is that it sees a little less time in oak in order to make a wine that is more accessible and enjoyable in its youth. Don't be fooled though- Marco is a traditionalist in the vineyard and the cellar- and this is serious, structured, old school Nebbiolo.
I've got a glass in front of me right now, poured via Coravin, and it's immediately aromatic with no aeration, with classic Nebbiolo notes of dark flowers, dark savory red fruit, licorice and leather. On the palate, it's medium bodied and has surprisingly amounts of red fruit given that I haven't given it a chance to air out. The signature Nebbiolo tannic structure is there, but it doesn't feel harsh at all- in fact, there's a delicious tension between the silky quality of the fruit, the juicy and fresh acidity (which is plentiful), and the astringency of the tannins (also abundant). It finishes juicy, clean, fresh and long, with tons of youthful fruit and mineral notes lingering. Give this a little air or 3-5 years in the bottle and it will absolutely be singing." -Ryan Smith, Enoteca Direct

100% organic Nebbiolo. 20-year old vines. Entirely hand-harvested from a vineyard in the DOCG area, so this is basically declassified Barbaresco. 18 day fermentation in stainless steel tank with pumping over 2-4 times a day. Aged 14 months in 3000L oak casks, then aged 8 months in bottle.