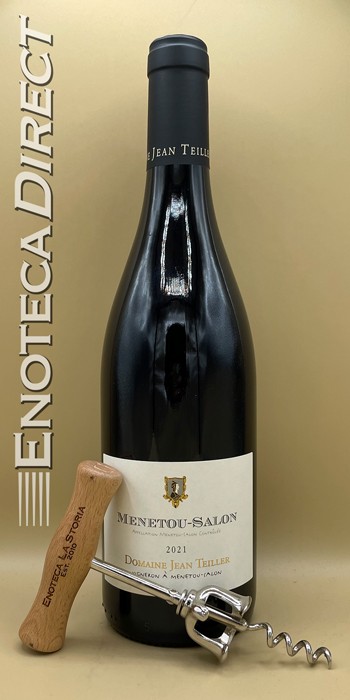 2021 Jean Teiller Menetou Salon Rouge
Loire Valley, France
100% Pinot Noir from 5 hectares of vines with a minimum age of 30 years old, certified organic. These vines are planted on deep clay and limestone soils (Kimmeridgian limestone, like in nearby Sancerre). Many cite Menetou-Salon as being the best region for red wine in the Central Loire. Further from the river and a little warmer, the wines have more structure and fruit Sancerre. These grapes are hand harvested and naturally fermented. The wine is then stored in stainless-steel tanks for 8-12 months before bottling.
The wine shows bright intense aromas of cherry, blackcurrant and blackberry. With some aeration, notes of smoke, cocoa and spice emerge. The tannins are fine. This light red wine makes a great partner to grilled red meats, rillettes and hard cheeses.
Domaine Jean Tellier was founded in the 1950's by Leon Millet. The domaine took forward strides in the 1970's with the hard work of Jean and Denise Tellier (Leon Millet's daughter) who believed in the future of Menetou-Salon and worked to enhance the appellation's reputation. In 1986 their son Jean-Jacques (after finishing his career as a chef) and his wife Monique began working at the domaine. Jean-Jacques and Monique's daughter Patricia and her husband Olivier came into the fold in 2003 after completing their winemaking studies in Beaune. Jean Teiller died in 1996 but the domaine has retained his name as a tribute to him.
The domaine covers an area of 18 hectares and is located on the best slopes of Menetou-Salon. 11 hectares are planted with Sauvignon Blanc and 7 with Pinot Noir. The vines average just over 30 years of age. Teiller, who has been certified organic since 2017, has not used any pesticides, chemical fertilizers or weed killers since 2010. All grapes are harvested by hand and then fermented using indigenous yeasts and in mainly stainless steel. Most of the wine is then aged in stainless steel while 5% is aged in barrique. All wines are bottled in the best month according to the biodynamic calendar.