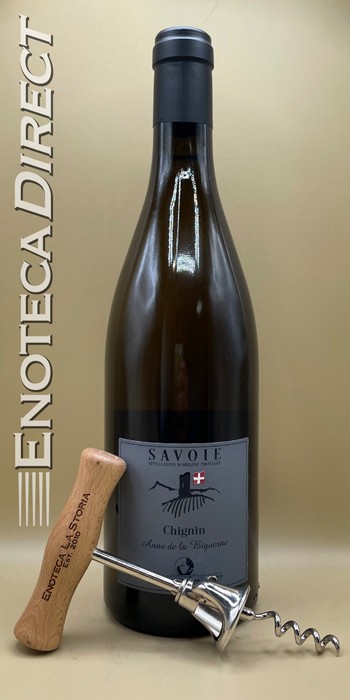 2020 Jean-François Quénard Chignin 'Anne de la Biguerne'
Savoie, France
This cuvée is made from 1 hectare of 65-year-old Jacquere vines, grown on clay and limestone soils. After being harvested by hand, the grapes undergo a long fermentation with full malolactic. The lees are stirred in the tank for two months to give the wine additional richness and complexity. Production is just over 600 cases a year. Organic with native fermentaion.
This alpine white is great for lovers of lean, unoaked white Burgundy, with its lemon, pear and apple fruit flavors accented by a flinty mineral saline element. Unlike many wines from this grape, this undergoes full malolactic fermentation, softening and rounding the naturally racy acidity of the Jacquere grape. Dry, crisp and refreshing, with a hint of flowers and honey on the nose and a clean finish reminiscent of Alpine herbs.
This small domaine lies in one of the most beautiful spots of Chignin, next to the Tour Villard (part of the ruined Château de Chignin). After many years of family winemaking history here (since 1644!), Jean-François Quénard took over responsibilities from his father Jean-Pierre in 1987. Having already studied at wine school in Dijon, Burgundy (incidentally, with Yves Chéron from Domaine du Grand Montmirail in Gigondas) Jean-Francois also later studied winemaking in Bordeaux and California. He was joined by his wife Catherine, and together they gradually grew the domaine from its original 5-hectare size. More recently one of their 4 children, Anne Sophie, got her viti-vinicultural degree from the prestigious Beaune wine school and joined her parents.

Today the domaine is comprised of 19 hectares sitting on the region's typical limestone-clay, optimally exposed slopes. The family has a viicultural philosophy rarely found these days, believing that there is a "spiritual dimension to tending to the vines" that "humbles" them. They are well on their way to full organic conversion, and even before taking that step have always treated their vineyard land with the utmost respect. Yields are kept low, harvests are 90% by hand, and each parcel is vinified separately using indigenous yeasts. Most of the basic whites are vinified and aged in stainless steel, while a couple of the higher whites and the reds are aged (for 9-18 months depending on the cuvée) in 300-liter fûts. Reds are bottled unfined and unfiltered.