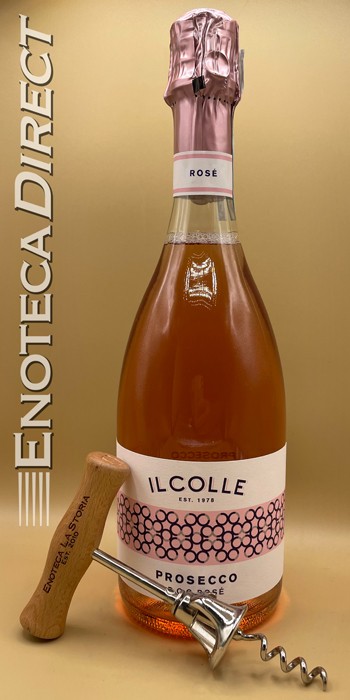 2020 Il Colle Rosé Prosecco DOC
Veneto, Italy
90% Glera and 10% Pinot Nero. Handpicked and from the Conegliano-Valdobiaddene DOC zone. Second fermentation in autoclave for 30 days, at controlled temperature max 15° C, with selected yeasts. At the end, 30 days more of maturation on lees.
Its delicate aromas are reminiscent of ripe raspberry. Fine, fruity, and round, is best tried fresh with cured meats or fish, especially prosciutto or salmon sushi.
Prosecco is the best-selling sparkling wine on the planet. There's just so darned much of it. In 2020, about 483.5 million bottles were produced. Champagne vinifies less than two-thirds that amount. To throw one more statistic at you, the United States, which is the largest importer of Prosecco, guzzled 82,936,113 bottles of the stuff in 2019.
Suffice to say, when the Consorzio di Tutela della Denominazione di Origine Controllata Prosecco — the consortium of Prosecco producers — does something, they do it big. This time the splash was painted pink.
For Prosecco to be designated DOC it must be made with at least 85 percent Glera. Though all sorts of red grapes have been used in the past to make rosé Prosecco, the new designation stipulates only one red grape in the blend. Prosecco DOC Rosé's structure and the wild red-berry aromas come strictly from Pinot Noir, pruned to yields of 13.5 tons per hectare. That's much more discerning viticulture than was applied to the Pinot in Prosecco historically. Producers that bother with such field work are showing off premium vineyards. The well-tended Pinot adds depth to the Prosecco's airy Glera.
Secondly, there are the bubbles. Nearly all Prosecco is made via the Charmat method, going through secondary fermentation in a stainless-steel tank. Normally, that process takes 30 days. Prosecco DOC Rosé, however, spends a minimum of 60 days in tank. Many producers leave it there longer. Longer fermentation, in other words, brings layered flavor, vibrant color, and silky bubbles to the wine.
Finally, Prosecco DOC rosés are not too sweet — at least not for Prosecco. You will find them labeled "brut nature," "extra brut," "brut," or "extra dry," signaling residual sugar levels ranging from zero to no more than 17 grams per liter. But you will not see them in most cloying categories, "dry" or "demi-sec." As for other indicators on the label, "DOC" will be prominently noted, and so will the vintage. Finally, you'll find a paper ribbon across the foil. It's a government label certifying DOC status.
All of those indicators should tell you that, in the bottle, there's balance between citrusy, floral, and vivacious red-berry flavors; between roundness and snap; between lusciousness and mineral refreshment. At 11 percent alcohol generally, these are easy-drinking yet elevated pink wines, made for picnics, beachy afternoons, and sipping alongside charcuterie and other hors d'oeuvres at cocktail parties. They're perfect for just now, when, after a long, collective pause, we're finally getting back to life's pleasures.