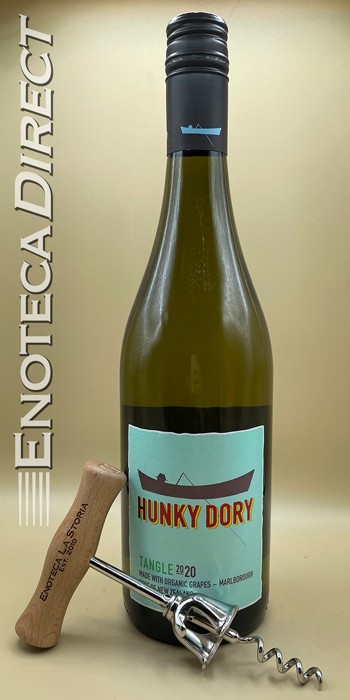 2020 Hunky Dory 'Tangle' White Blend
Marlborough, New Zealand
A unique blend of 61% Gruner Veltliner, 20% Sauvignon Blanc, 10% Pinot Gris, 5% Chardonnay and 4% Riesling.
91 points, Wine Enthusiast. "This entry level label from Marlborough winery Huia consistently delivers bang for buck. This vintage the blend is dominated by Gruner Veltliner, trailed by Sauvignon Blanc with a little Pinot Gris, Chardonnay and Riesling for a tasty, balanced drop. Delicate aromas of honey, ginger and sun-kissed orchard fruit and their blossoms lead. An almost unexpected dagger of acidity slices through the bright apple, pear and citrus fruit on the palate but is neatly balanced by a gentle textural element and a lengthy finish."

About Hunky Dory/Huia Vineyards
Founded by husband-and-wife duo Mike and Claire Allan in 1996, Huia Vineyards is one of Marlborough's only producers dedicated to the production of minimal intervention, organically farmed wines. The winery remains family-owned and operated today.
After studying winemaking in Australia at the University of Adelaide's Roseworthy College, Claire spent time at Champagne Taittinger before returning home to New Zealand where she served as the first winemaker at Lawson's Dry Hills. Mike met Claire at Roseworthy College before going onto have his own winemaking career at seminal New Zealand wineries such as Cloudy Bay, while also briefly working in Champagne at Veuve Cliquot.
Named after the fishing boat that Mike built for himself, the Hunky Dory label from Huia Vineyards offers exceptional values which still carry the same organic certification as their estate range. Sourced from a combination of their own vineyards and other carefully selected sites across Marlborough, the production size on each of these wines remains small. Ever humble, Mike and Claire's dedication to expressing the terroir of Marlborough while farming organically separates them from the rest of their region.