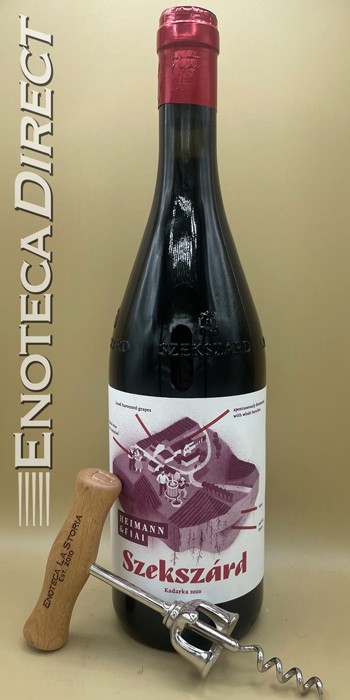 2020 Heimann & Fiai Szekszárd Kadarka
Szekszárd, Hungary
"Kadarka Man" – that's how Zoltán Heimann Jr. likes to call himself. And with good reason, when you make it your mission to rescue a delicous local grape variety from near extinction!

Harvested at the end of August and into early September, fermentation was in large (5000-8000 liter) wooden and stainless steel open vats (partly whole bunches), 10-12 days of maceration, twice daily foot trodden and/or pumped over, then aged five months in used oak.

Tasting Notes
Maybe the most elegant red in Hungary. It shows bright, floral perfumes of damp red and purple flowers, followed by tart red cherry, cranberry, black raspberry, wild strawberry, and plum skin. Hints of smoke, herbs, and crushed earth float into the mix but what's really on dramatic display is immense freshness, finesse, and mouthwatering acidity. Think French alpine red
albeit with Hungarian herbal cherry and spice. This is a light refreshing red in a whole new category.

About Heimann & Fiai
The Szekszárd appellation is steeped in history, turmoil, and transition: It was initially established by the Celts before flourishing under the Romans and weathering high wine taxes of the Ottoman Empire. By the dawn of the 18th century, the Turks had been pushed out and replaced with Serbian who had been forced to migrate north. It was the Serbians who brought over and planted the Kadarka grape. Soon after, the Swabians (southwest Germany) began creeping into Szekszárd where they resettled and brought their winemaking prowess. In fact, the Heimanns are of Swabian ancestry, and they've been continuously crafting wine here since 1758.