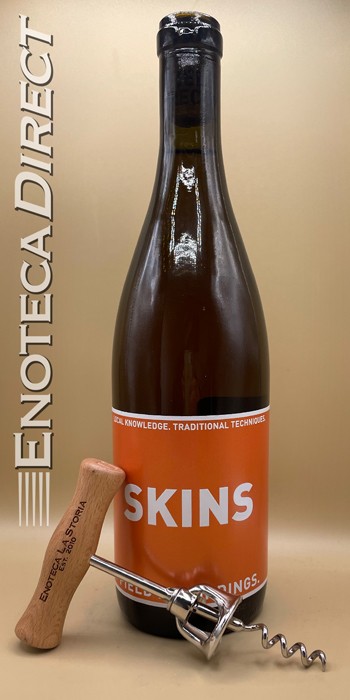 2021 Field Recordings Skins
Central Coast, California
41% Chenin Blanc, 37% Pinot Gris, 9% Albarino, 8% Verdlho, 5% Riesling
A crisp orange wine perfect to pair with spicy foods, springtime and ... well, anything. It will make you a believer in non-red wines. Using a mix of white grapes from different vineyards, destemmed and fermented on skins, the resulting wine is a beautiful showcase of all the delicate flavors of white wine, but with more substance and texture. The varieties get 4-8 weeks on skins extracting the orange color.
Tasting Notes: Deep in color and complex in flavors, this wine exhibits aromas and flavors of ripe citrus peel, earthy notes, apricot, and crushed nuts. The finish is long and extended because of the time on the skins. Pair with spicy food, chicken & seafood.
About Field Recordings: Winemaker Andrew Jones has a keen eye for diamonds in the rough: sites that are unknown or under-appreciated but hold enormous untapped potential. Spending his days as a vine nursery fieldman planning and planting vineyards for farmers all over California, Andrew is sometimes offered small lots of their best fruit on the side. Having stood in just about every vineyard on the Central Coast, he's all about finding those underdogs with untapped potential. As friendships are made and opportunities are embraced, Andrew produces small quantities of soulful wine from these unusual, quiet vineyards.
Wine Specs
Appellation
Central Coast